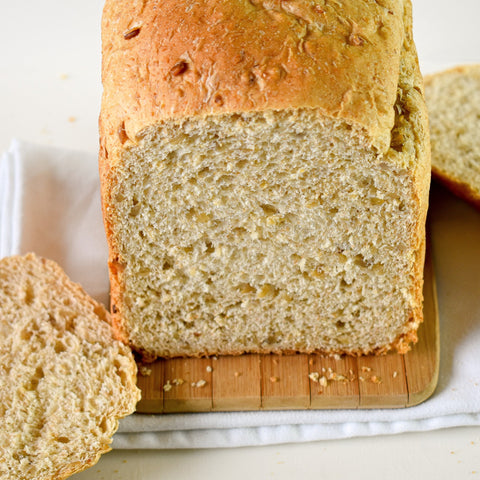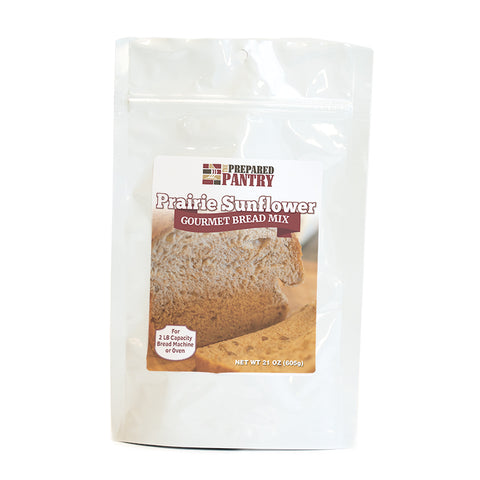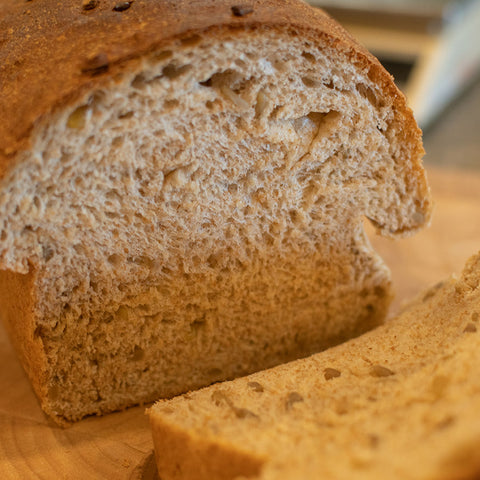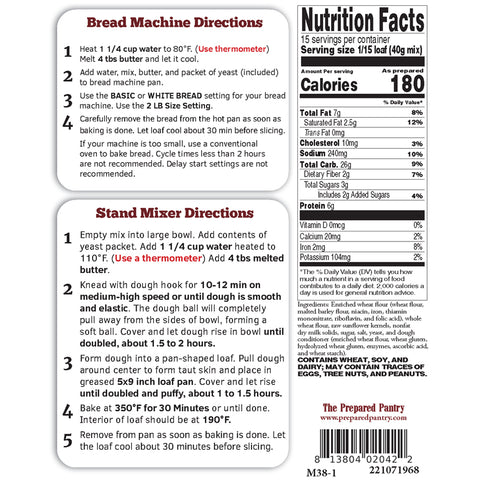 The Prepared Pantry
Prairie Sunflower Gourmet Bread Mix
Make this with your bread machine, stand-type mixer, or by hand.
Frequently Asked Questions
Each bread mix makes one large loaf.
SAF yeast packet included!
Makes perfect bread in all popular 1 1/2 to 2-pound bread machines--or in the oven.
Use a thermometer to check the water temperature, and we guarantee your bread will work.
Nearly one in four reviewers say this is their "best" or "favorite" bread. That's pretty good when we sell nearly 100 breads.

"I have tried and enjoyed many of Prepared Pantry's bread mixes, but have found Prairie Sunflower to be my favorite." Vicki Vaughn
This is the best light sunflower bread. It's made with freshly milled bread flour from our neighbors in Montana with just enough stone ground whole wheat flour to give it body.  Then we loaded it with 3/4 cup of sunflower seeds. You won't find anything like it elsewhere! Finally, this bread is made with 1/4 cup of butter. No wonder it's so rich and flavorful!
"Prairie Sunflower bread is awesome and flavorful, and you also get the nutty crunch of the sunflower seeds. Wow!! Totally delicious!!" Jeannie McCall
This is a favorite bread for morning toast.
"We buy it every time we order. We like the flavor and texture, and it toasts beautifully!" Matthew Rodriguez
If people love it this much, you should try it.
Make this your favorite mix. Your family will love it for sandwiches and toast. It's a hearty, healthy loaf yet moist and soft.
If your family doesn't absolutely love it, we'll give you your money back.
One of my favorites
By far one of my all time favorite bread mixes from PP. I love the added nutrients from the sunflowers and the chewy goodness. And this loaf always rises SO high so you know it's light and fluffy too. Love it.
Sunflower bread
We loved the bread
A soft bread with a great flavor
My Husbands Favorite
Prairie Sunflower is my husbands favorite bread (and my 2nd favorite) although we haven't tried all the breads we purchased yet. It's light and moist, makes perfect breakfast toast and great sandwich bread
did not care for the basic flavor. Would not purchase again.
An excellent bread!
This was my first time making this delicious sunflower bread and oh, boy. I've had it plain, I've had it toasted, I've made sandwiches of varied kinds with it, had wonderful breakfasts of it toasted & buttered with soft-boiled eggs topping it...all bliss. Then I thought, why not make an Italian bread salad! At the end of the loaf, with no enough left for a sandwich, I made croutons. Wow. Yum!