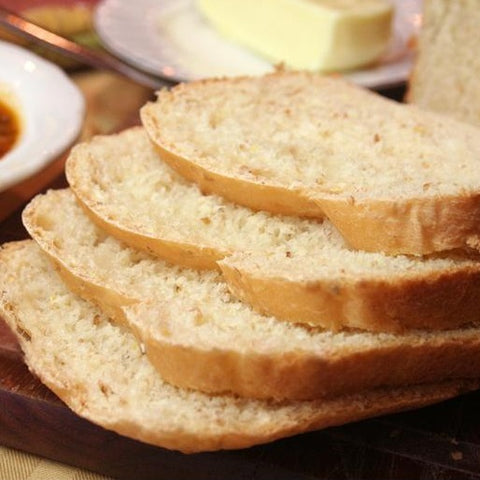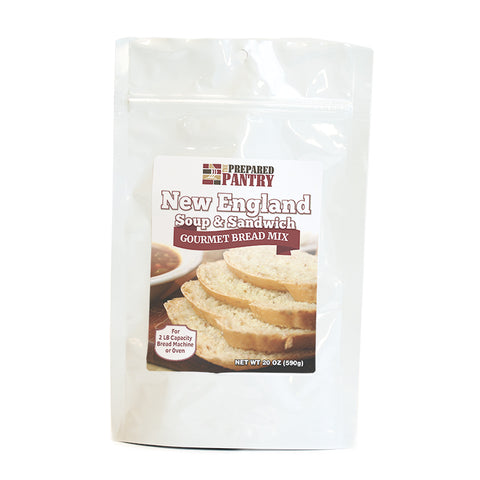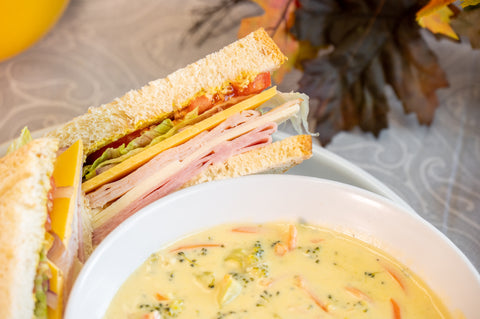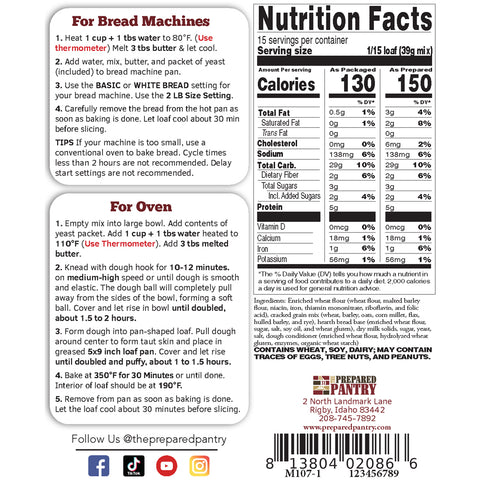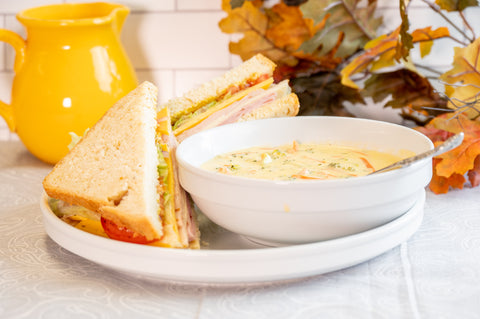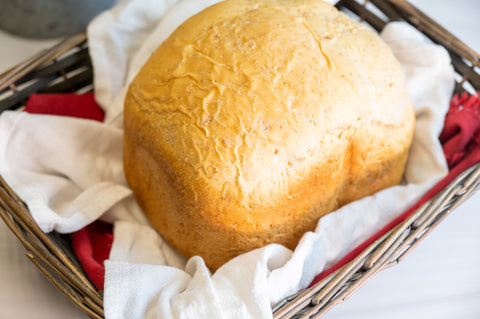 The Prepared Pantry
New England Soup and Sandwich Bread Mix
Make this with your bread machine, stand-type mixer, or by hand.
Frequently Asked Questions
This bread has eight hearty grains, and a unique but delicious texture
A great bread for toast and sandwiches.
A soft, moist bread that your family will love.
Each package contains one bread mix that makes a two-pound loaf.
Includes a high quality SAF Yeast Packet
This wholesome bread is made with eight hearty grains.
It gets cold in New England. So it's not surprising that New Englanders make breads with substance.This is almost white bread, a moist bread, that is made with just enough whole grains to make a delightful bread.
This is a great heritage bread that your family will enjoy, a wholesome bread without preservatives.
Grains can be used in breads in four forms:
As flours--though only wheat flour has the proteins to form gluten, which gives bread its chewy, elastic texture.
As rolled grains. Rolled oats and other rolled grains meld into the bread but make the bread chewy and moist.
As finely chopped grains. Finely chopped grains may be the consistency of coarse salt but cook soft and nearly unnoticeable. They give breads a chewy, hearty texture with occasional grains.
As coarsely chopped grains. Coarsely chopped grains are distinct, chewy nuggets in the bread. Often, they are presoaked to make them softer. In a bread machine, with a three-hour cycle, the grains are softened.
The grains in this bread are finely chopped. They bake soft and chewy, with a hardy and wholesome texture, yet the bread is still soft and moist. The bread is nearly white so the kids will accept it as one of their favorites.
I have enjoyed the bread mixes purchased from Prepared Pantry. When you solicit feedback or ask for a rating of a product you must realize a response isn't a realistic request after only a few days after receiving an order. Most of the time a mix isn't used immediately after it's shipped, sometimes not for several weeks. I know an evaluation of a product is an important part of quality control but I doubt if most customers are prepared to evaluate all your bread mix products a few days after being received. Just an opinion. Thanks for a excellent product.
One of my favorite breads!
As advertised—it is a good sandwich bread. Good texture for sandwiches.
Great bread
NewEngland Soup and Saneich bread is very tasty. It is a hearty bread. Loved it.