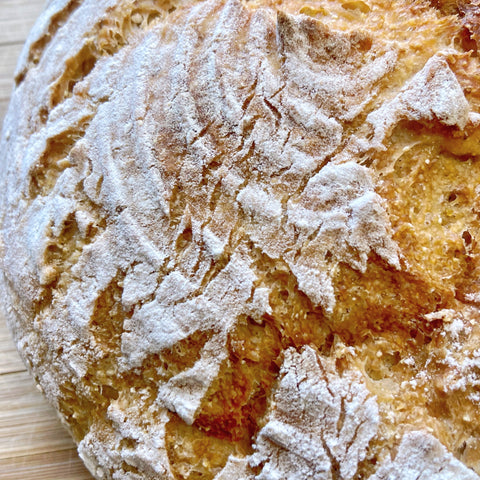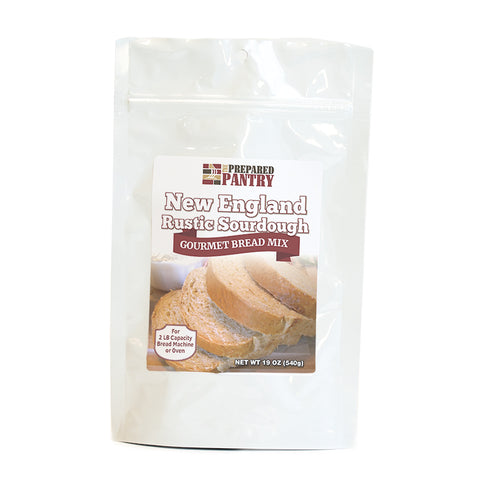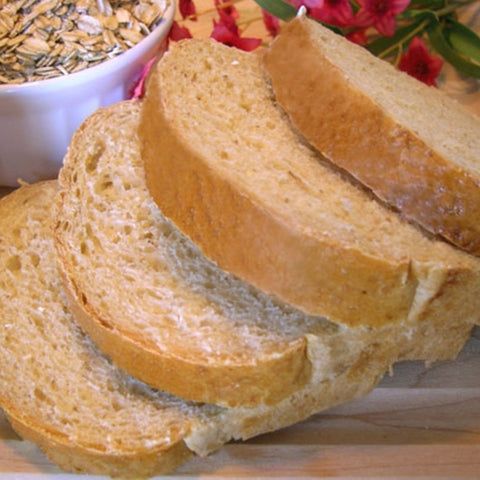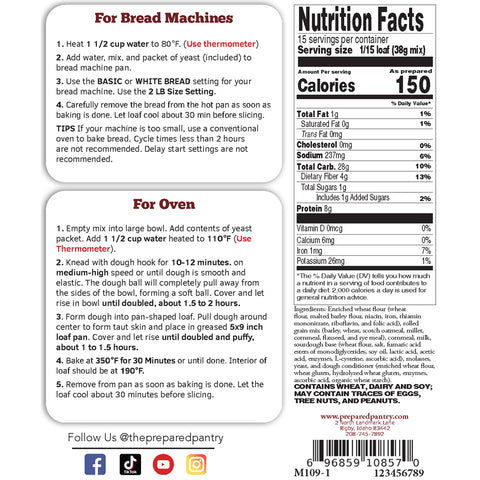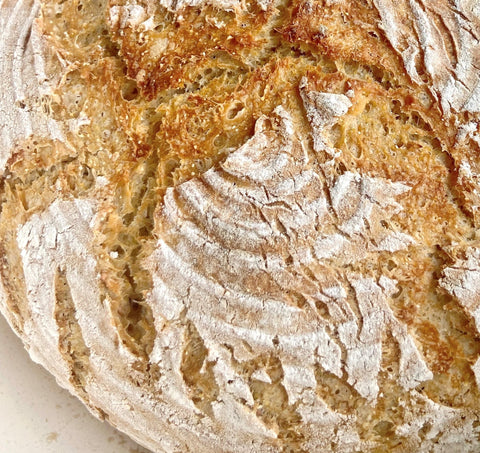 The Prepared Pantry
New England Rustic Sourdough Bread Mix
Make this with your bread machine, stand-type mixer, or by hand.
Frequently Asked Questions
Each mix makes a large loaf--nearly two pounds.
SAF yeast packet is enclosed. You provide only water.
Directions and tips for perfect bread are included. You can make this bread in your bread machine, by hand, or with a stand-type mixer.
Can be baked in a Dutch oven for a classic crusty loaf.
Use a thermometer to check water temperature and we guarantee your bread will work.
This is an excellent, highly recommended heritage bread!
It's moist but made with a mixture of seven grains. You'll taste a bit of sourdough tang from starters like the early New Englanders made.
Our early settlers didn't have a lot of refined, sifted flours. You'll find a mixture of whole grains to create a very good rustic loaf, and yet it's moist and soft and holds together well. It has a split top crust like authentic artisan loaves--even from your bread machine
We think that you will absolutely love this bread. This is a wonderful morning bread, one of the best breads for toast. Served warm with a pat of butter, you'll find it scrumptious. Try it with your favorite soup or toast it and make some great sandwiches. This is a great bread for grilled sandwiches.
good! and super easy
Surprisingly good and tasty!
Didn't rise correctly; doughy
This one didn't rise well and was very doughy even after following the recipe and setting my bread machine to the correct settings. The second sourdough I bought was delicious, so I'm not sure what went wrong with the first one which has usually been my favorite mix. It was also still in date, so I don't know why it didn't come out well.
My 1st order
I haven't cooked that one yet.
I ordered 12 and have made 2. I am very impressed so far. So glad I have 10 left in my pantry.
Thank you very much. I'm in!!!
New England Rustic Sourdough Bread Mix