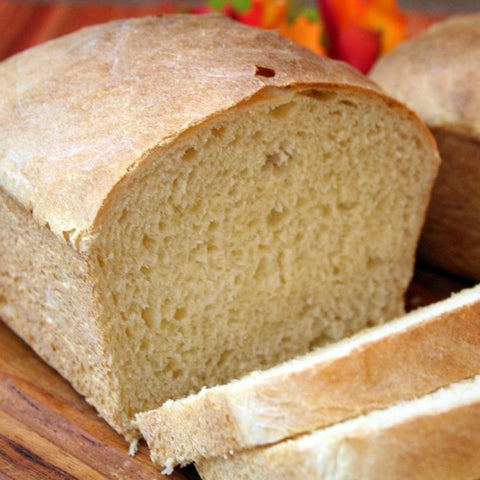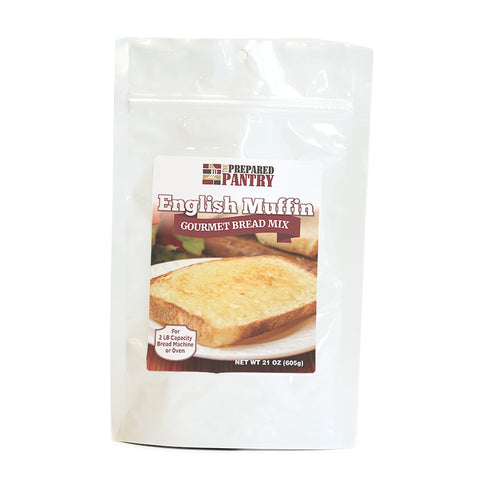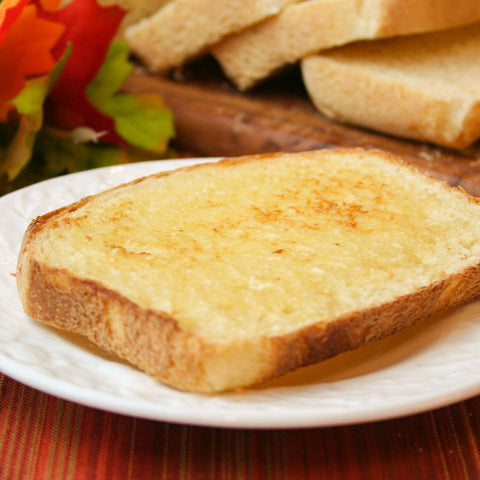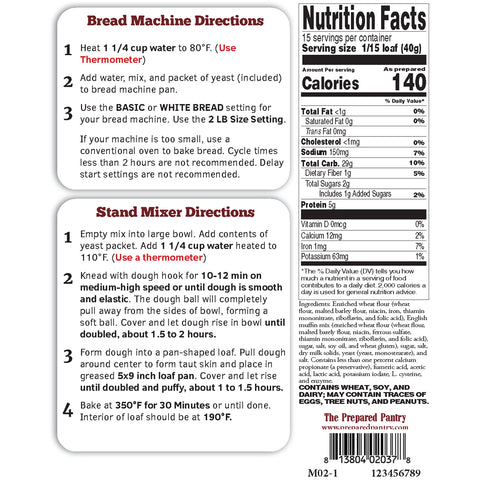 The Prepared Pantry
English Muffin Bread Mix
Make this with your bread machine, stand-type mixer, or by hand.
Frequently Asked Questions
Classic English Muffin taste and texture

Nooks and crannies
Perfect bread for making toast
SAF Yeast Packet Included
Directions and tips for perfect bread
make this bread in your bread machine, by hand, or with a stand-type mixer.
Enjoy this English muffin bread as toast or everyday bread.
This English muffin bread has the trademark texture, moist crumb, and rich taste of English muffins in the convenience of a loaf. Toasted, this bread has lots of crunch and yet can be made with your bread machine or your oven. Try it for breakfast with honey or preserves. 
"Unimaginably tasty. Love this toasted. Sandwiches great.. they with egg and Canadian bacon or regular bacon and egg and cheese. I'm a total fan of anything Prepared Pantry..this bread is an absolute fav" -Sandra Fazio
You'll be proud of this bread; we certainly are! Your satisfaction is guaranteed--we guarantee that you will like this bread. Add this to your cart for wonderful English muffins without all the work.
"I absolutely love this bread !! It is scrumptious, can't stay out of it. It has that great English Muffin flavor but is soft with great texture ! Will be buying this again !!!" -Marlene
If you make this bread in your bread machine, water temperature is critical. Please use a thermometer to measure water at exactly 80 degrees. A ten-degree difference in water temperature can double the growth rate of the yeast. These bread mixes are satisfaction guaranteed when you use a thermometer.
This is the perfect bread for toast. It was designed for toast.
Now you can make English muffin-like bread from a mix.
English muffin mix
I have baked this mix but put it into freezer so have not tried it yet. Sure looked and smelled good.
Soo delicious
Love it. Very tasty and crispy. Love all the bread mix. Very easy to make and always a great taste!!! 😊
Nooks and crannies
Taste like English muffin but without the deep nooks and crannies ti catch the melted butter
English muffins mix
I made this bread in my bread machine. It was very good. I will buy it again.