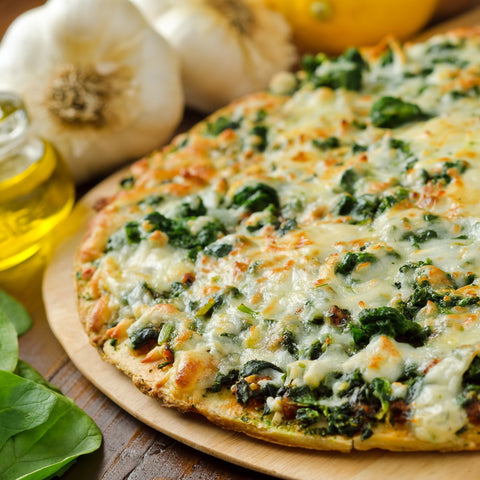 The Prepared Pantry
Zesty Pizza and Pasta Spice
We fell in love with this spice blend and think you will too.
It makes your pizzas and pasta better. Listen to this:
But these zesty herbs and spices are not just for pizzas and pasta. It makes everything Italian from burgers to salads. I make an Italian dressing with it. How can you spice up your life?
This is the perfect mixture of herbs and spices for pizzas and pasta.
Try this spice on pizzas, pasta, and salads.
Ingredients: A proprietary blend of fine Italian herbs and spices. This product is packaged with equipment that is used in the production of baking mixes and may contain traces of soy, dairy, wheat, tree nuts, peanuts, or eggs.
Can't make pizza without it
this mix takes our homemade pizza and breadsticks from meh to amazing!
Review
My husband makes homemade pizza quite frequently. He's used his own blends of spices and just about every spice blend out there, and nothing compares to this spice mix! It has improved our pizzas immensely. We even sprinkle it on frozen pizzas when we're feeling a little too lazy to whip up one of our own. It really improves the flavor. It's also fabulous sprinkled on focaccia bread.
Review
This seasoning blend takes my Italian dishes (especially homemade pizza) to the next level! I've had so many compliments on the dishes that I've added this to. It's phenomenal when adding it to olive oil and dipping bread in it or adding it to my homemade bruschetta recipe. You can taste the quality in this bottle, it's definitely a staple in my cupboard now.
Review
This blend of herbs and spices is the greatest! Use with olive oil as a bread dip, to season pizza and pasta sauce. The greatest applause came from my daughter when she said her DH liked to use it in cooking his Chilean recipes. (He is from Chile.)