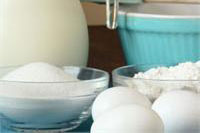 The Prepared Pantry
Wisconsin Buttermilk Powder 19.5 oz
Buttermilk is indispensable in baking.
This package contains about three and half cups dry buttermilk and will make ten cups of buttermilk liquid.
It is used to give added tang to baked goods and as a leavening agent to make products rise more. Buttermilk is acidic and it reacts with baking soda, an alkaline, to create carbon dioxide bubbles in the batter and hence makes the batter lighter.
Try this in your bread, scone, or muffin recipes. Use it as you would dry milk or mix with water--1/3 cup powder to make one cup liquid.
This is a wonderful product for making your own buttermilk pancake mix and the same buttermilk that we use in our mixes.
Everyone likes the tangy taste of buttermilk. But the alkaline in baking soda neutralizes the acid and buttermilk and eliminates the tangy flavor. That's why you can't taste buttermilk in many recipes. But you can add more buttermilk than the soda can neutralize to deliver a buttermilk flavor. If you do it with liquid buttermilk, you have too much liquid in your recipe. In most recipes, you can add more dry buttermilk powder to your recipe without upsetting the balance.
Both dry buttermilk and liquid buttermilk are acidic. You can substitute reconstituted buttermilk from dry powder for the buttermilk you buy in the stores.
We usually don't bother to reconstitute buttermilk powder for baking. We simply add the water and the powder separately and continue with the recipe.
Estimated Shelf Life: Three years when stored in a cool dry place. Zip the bag between uses.
Ingredients: Cultured skim milk. This product may contain traces of soy, eggs, wheat or nuts.
Love this mix!!!! I don't have to buy the stuff from he store , only use 1cup and waste the rest. You make what you need from the mix, and....all done!! The taste is great too!