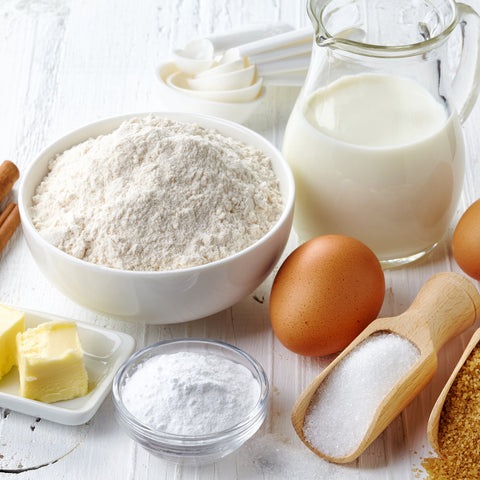 The Prepared Pantry
Wisconsin Buttermilk Powder 11 oz.
This will save you money. Use it in place of fresh.
Quit wasting your buttermilk!
Chances are you're buying liquid buttermilk, using it once or twice, and then throwing it out when it spoils. This is a better way. Mix what you need and save the rest.
Try this in your bread, scone, or muffin recipes. Use it as you would dry milk or mix it with water--1/3 cup powder to make one cup liquid. You save money and space in the refrigerator, and you always have some on hand.
Baker's note: You don't need to reconstitute it. Just add it to your recipe along with your other dry ingredients. The liquid in your recipe will reconstitute it.
This package contains about two cups of powdered buttermilk and will make six cups of buttermilk liquid.
It is used to give an added tang to baked goods and as a leavening agent to make products rise more. Buttermilk is acidic, and it reacts with baking soda, an alkaline, to create carbon dioxide bubbles in the batter and hence makes the batter lighter.
This is a wonderful product for making your own buttermilk pancake mix and the same buttermilk that we use in our mixes.
Estimated Shelf Life: Three years when stored in a cool, dry place. Zip the bag between uses.
Ingredients: Cultured skim milk. This product may contain traces of soy, eggs, wheat or nuts.
Use instead of regular buttermilk—— it is 😌
Love this for baking, so nice to always have it on hand without having to try and have refrigerated buttermilk
Dairy w/o a cooler? YES!!
Awesome product to have on hand
Absolutely Perfect
Great products, Great FREE Shipping, and great prices!
Buttermilk Powder
So easy to make for recipes..no need to buy a quart that gets old so fast