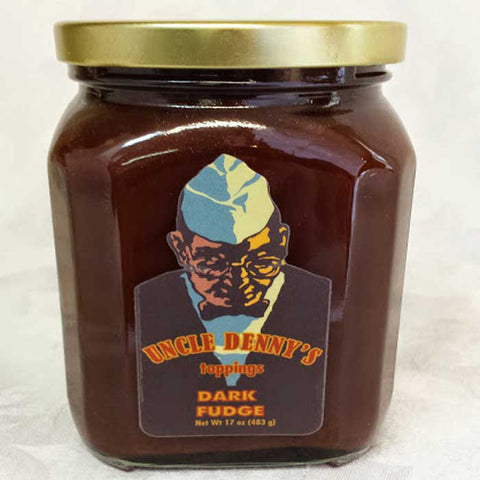 Pioneer Valley
Uncle Denny's Dark Hot Fudge Gourmet Ice Cream Topping
This is a very luscious gourmet hot fudge topping. This is old-time fountain fudge. We went through batch after batch until we had a very fudgy topping. If you are looking for a great topping from yesteryear, this is it.
We guarantee that these are the best ice cream toppings that you have ever tried!
Made with real dairy cream, pure chocolate, butter, and vanilla.
Over 2 cups of luscious topping--a large 17-ounce gourmet jar.
Do not pass up this extraordinary ice cream topping.
Each attractive glass jar contains 17 ounces of thick ice cream topping.
Ingredients: corn syrup, sugar, cream, evaporated milk, pure chocolate, butter, vanilla, carrageenan, propylene glycol alginate, and salt. Processed in a facility that uses nuts. Keep refrigerated after opening.
Could be made with darker dark chocolate