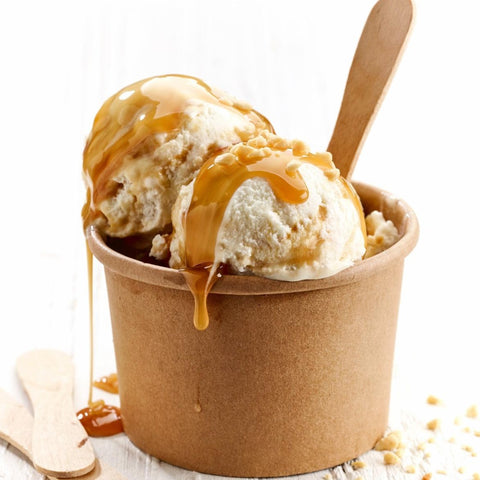 Pioneer Valley
Uncle Denny's Caramel Gourmet Ice Cream Topping
See how to make a caramel apple skillet cobbler.
We guarantee that this is the best caramel topping that you have ever tried!
This is a very buttery caramel topping--irresistible. Don't miss this old-time, classic fountain topping.
Made with real dairy cream, brown sugar, butter, and vanilla.
Over 2 cups of luscious topping--a large 17-ounce gourmet jar.
Don't miss this extraordinary ice cream topping.
Each attractive glass jar contains 17 ounces of thick ice cream topping.
Ingredients: corn syrup, sugar, cream, brown sugar, evaporated milk, butter, vanilla, carrageenan, propylene glycol alginate, and salt. This product is processed in a facility that packages items with tree nuts and peanuts and may contain traces of such. Keep refrigerated after opening.
love love love
Uncle D's Caramel Gourmet Ice Cream Topping- is just the yummiest ever! Best flavor and creamy. I buy extra for gifts and wow is it hard to give it up :D
Review
Best caramel i have ever tried,great to dip for granny smith apples!
Review
The best caramel I have ever had, rich, smooth and gluten free.
Review
This is very tasty. I highly recommend it.