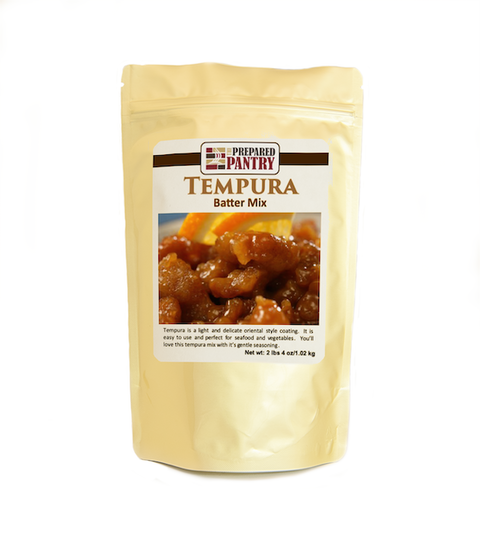 The Prepared Pantry
Tempura Batter Mix 2 lbs 4 oz
Perfect for Veggies and Seafood.
Tempura is a light and delicate oriental style coating. It is easy to use and perfect for seafood and vegetables. You'll love this tempura mix with its gentle seasoning.
Use it on meats, seafood, vegetables, and sushi rolls, etc.
Ingredients: Wheat flour, yeast, sugar, salt, and soybean oil. This product is packaged in a facility that produces baking mixes and may contain traces of soy, eggs, dairy, or nuts.
chief cook
Best batter mix on the market. Makes excellent chicken nuggets
Review
I bought one bag of this tempura mix to try. I usually make my own.. After trying this mix I will never make my own again. It was the lightest and most delectable tempura batter. I made shrimp tempura and vegetable tempura. My family could not believe it was not restaurant bought. I highly recommend this item. I just went back and ordered five more bags to have in the pantry. I am a retired chef/cook.