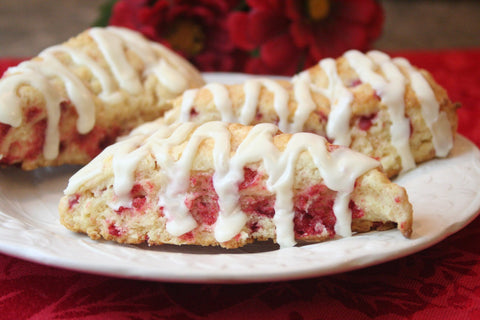 The Prepared Pantry
Strawberry Scone Mix with Vanilla Cream Frosting
Learn how to make fabulous strawberry scones that may taste better than those in a genuine English tea shop and definitely better than most coffeeshops!
There's a simple rule to fabulous scones: Start with rock hard butter. Then cut the butter into the flour mixture with a pastry knife without the butter melting. Little pieces of butter is what makes scones flakey. Start with hard butter, mix quickly, and put them in the oven.
These strawberry scones are perfect for breakfast, brunch, or that company lunch. There are plenty of sweet strawberry bits in every bite, made from real preserves. This mix is also a quick and easy to make, with a prep time of fewer than fifteen minutes. Just follow the instructions and you'll have perfect scones in no time.
This is a quick and easy mix to make. The preparation time is less than fifteen minutes. Just follow the easy instructions and you will have perfect scones. This is a large 29-ounce scone mix--almost two pounds and much larger than our competitions'! It makes 12 to 24 scones depending on size.
Ingredients: This product contains wheat, soy, dairy products, and eggs and may contain traces of tree nuts, or peanuts.
Strawberry Scones with Icing
These are fabulous, easy to make, and we use them for two or three breakfasts. Love them with a cup of tea or coffee!
Easy to follow instructions, and they turned out great!
So Good
Everything from this company is delicious.
Delicious!
This Strawberry Scone mix is perfect! Easy to make and bakes to perfection. I will be ordering again and again! I truly love Prepared Pantry!
Love these convenient mixes
These mixes have produced excellent scones everytime! The ease and convenience of the mix mean I make them much more often. Best breakfast for holidays with family. Add some fruit, coffee, tea or juice, and you are out of the kitchen with a beautiful spread for the holiday morning in no time.