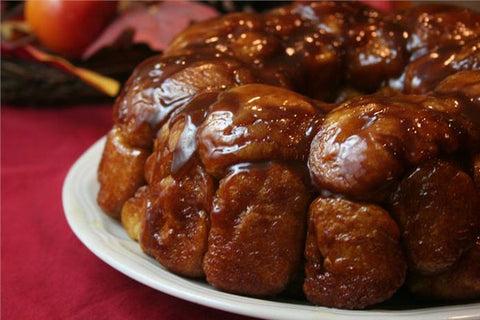 The Prepared Pantry
Sticky Bun Monkey Bread Mix (2 lbs)
Try this sticky bun monkey bread with bite-sized morsels, covered in a caramel glaze.
We guarantee that you'll love this as much as caramel sticky buns or your money back.
We love monkey bread and we love sticky buns. As soon as this came out of the oven, we knew we had a hit. Each morsel is covered with a sticky caramel glaze with the best gourmet cinnamon. Treat your family or take this old-fashioned pull-apart loaf to your next party.
Proven and dependable mix.
Each mix makes one large monkey bread dessert--enough to fill a large bundt pan.
(Each mix weighs 32 ounces.)
Easy-to-follow instructions.
Everything included but the butter.
Makes a great snack, dessert, or party food.
Made with potato flour for a richer flavor and a soft, moist dessert.
Scrumptious caramel and cinnamon filling.
Don't miss this "most scrumptious concoction." You and your family will be hooked on monkey bread.
Husband asked when we could have more!
He absolutely loved how this turned out. I just ordered two more mixes to ensure we don't run out! Will be ordering even more, shortly!
Sticky Bun Monkey Bread Mix (2 lbs)
Grandkids love them
Favorite treat when they visit grammy
Just Awesome!
It was my first time buying the Sticky Bun Monkey Bread mix.
It was easy to make and tasted fantastic! Used it as a dessert and then for breakfast in place of sweet rolls.
Thank you for a wonderful product!