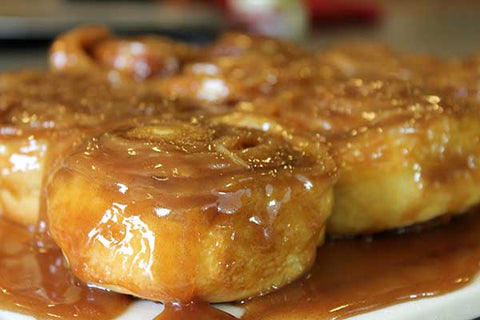 The Prepared Pantry
Sticky Bun Goo Mix
Make sticky buns in three easy steps
Make the goo. Put it in a 9 x13 pan.
Form the cinnamon rolls (not included with this product) and place them in the gooey pan.
Let the rolls rise and bake.
When the pan comes from the oven, invert it on a cutting board or platter and let the goo drip out all over the buns.
This goo is very much a caramel, thicker than a sauce but sticky to the touch.
Makes enough for a 9 x 13-inch pan of rolls.
Detailed instructions make it easy.
Caramel flavor and sticky, gooey texture.
Proven and foolproof
Delight your family with sticky, gooey sweet rolls.
Gotta try it!!
This Sticky Bun Goo Mix is great. If your trying to decide if you want to try it please take take my word you will not regret it. The taste is fantastic!!