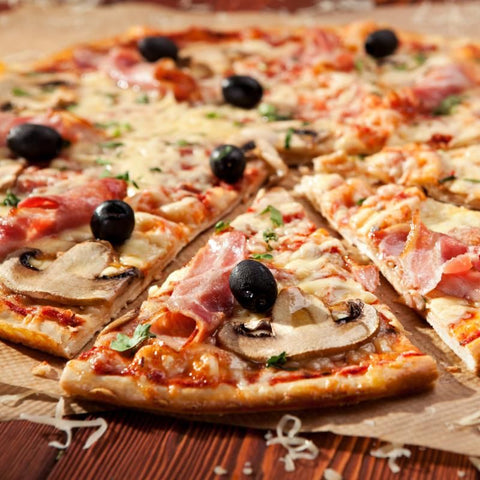 The Prepared Pantry
Rustic Italian Pizza Dough Mix (with tips and a recipe for thin crust pizzas)
Each large pizza dough mix makes a 15-inch, medium-thick pizza crust or two thin crusts.
Authentic "old world" pizza dough with a mixture of the finest flours.
Makes a soft, pliable pizza dough with almost no "spring back."
Comes with SAF yeast.
Quick with easy-to-follow instructions.
Make an authentic Italian pizza that tastes so much better than take-out. You can make it thick or thin, pepperoni or margarita, whatever you choose, because it's your pizza! 
Making pizza dough from scratch can be tricky, but with this mix, you can have the perfect rustic pizza crust in no time at all!
This pizza dough mix beats delivery! It's made your way--thin crust or thick and exactly with the toppings you want. The homemade pizza dough crust is better. The ingredients are fresh. Nobody will care for your pizza the way you do.
If you use your bread machine, use the dough setting--setting "eight" on most machines. If you're making a thick-crust pizza, let it rise on the pan. If you're making a thin-crust pizza, don't bother to let it rise. You'll get all the rise you need, loading your goodies on the crust and in the oven.
"It is a very good pizza dough mix and made an excellent pizza."  Patrick Prunty 

"Terrific. Family loves this."   Diana Seminer 
It's very easy to use. It's a soft dough with almost no spring back. You'll get a uniform crust that bakes perfectly.
"The Classic Italian Pizza Dough mix is delicious! I always make my own pizza crust so I had my doubts that a mix could be very good but this mix is so easy and fast and it tastes so good!! I had to purchase more right away so I will never be without it!"  

Shelly Hepp
Tips from Customers
For an easy dough, either mix the dough in your bread machine--setting eight on most machines--or with your stand-type mixer.
Use a pizza roller to smooth out your dough in the pan. The small end will let you get right up in the corner.
Lift the corner of your pizza up to see if the bottom has browned.

Consider baking your pizza on the grill. (It's easy to bake on your grill if you have a cover with which to trap the heat. Grills tend to be hot on the bottom. Put a baking sheet under or below your pizza to insulate your pizza or direct the heat away from your pizza.)--Lynn Bennett

Make two thin-crust pizzas with one mix. Prepare two pizzas--one for the oven to eat this evening and one for later.

Leftover pizzas will keep in the refrigerator for four or five days. You can reheat the slices in your air fryer. The crusts will be crispy and nice, much better than reheating the slices in the microwave.
Try it. See if you don't make better pizzas. Your family will love it. We guarantee it.



 How to Make a Summertime Pizza
This is another great thin-crust pizza that you can make in a hurry.
The squash cooks more quickly than the peppers and onions, so partially cook the onions and peppers in the microwave until they are crisp-tender. Then load all the veggies on the crust at once.
This is a surprising pizza and an excellent way to use the zucchini that grows so abundantly in your garden. Because it's a mild-tasting pizza, even your kids will eat it.
Ingredients
1 thin pizza crust
1 medium zucchini, sliced
1 medium crookneck squash, sliced
1/2 medium red pepper, chopped
1/2 medium sweet onion, chopped
1/2 cup marinara or red pizza sauce
2 teaspoons olive oil
1 teaspoon Zesty Italian seasoning
1/4 teaspoon salt
1 cup mozzarella cheese
1/2 cup grated cheddar cheese
Directions
Preheat the oven to 450 degrees.
Using half the pizza dough mix and a 14 to 15-inch pan, form a very thin pizza crust, one that will cook quickly in the oven.
Spread the crust with the marinara sauce on the unbaked crust. Sprinkle with Italian seasoning. Toss the vegetables in olive oil.
Layer the vegetables over the marina, distributing them evenly. Sprinkle salt over the vegetables. Spread the cheese over the vegetables.
Place the pizza in the oven and bake for eight minutes or just until the crust is crispy and the cheese is melted and bubbly.
Grandkids are crazy about the pizza dough!!!!
Made this for my grandkids. They loved the the crust and ate it all gone. They generally eat around the crust part. It's a win by the toughest critics!
Not as good as I hoped
Dough was dry and lacked taste. Tried to follow instructions but internet and enclosed were not the same. For thin crust no rise so why add yeast? All recipes on YouTube let dough rise for 30 minutes.
Rustic Italian Pizza Dough
Makes a great pizza crust. I prepare a single mix and use half for a thin crust and freeze the remaining half. Once thawed the frozen half revives very well for a second thin crust.
Pizza dough
I have not made a pizza yet, but I am sure it will be good!
Rustic Italian Pizza Dough Mix