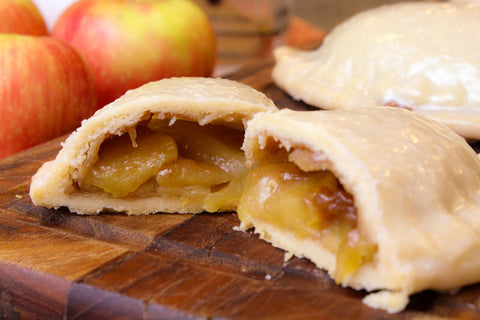 Dawn Foods
Professional Apple Pastry and Dessert Filling
You'll love this luscious apple dessert and pastry filling!
Great professional pastry cream to fill pastries, donuts, and crepes
Wonderful filling for layered cakes
Use it as a dessert topping
Large 2 pound size fills many donuts or pastries
Made for Bakers
This pastry filling is more intense with more flavor than pie fillings and smaller apple pieces. It balances better with a pastries or donuts. It is perfect for turnovers. The unique packaging is made for bakers. Snip the corner and add a decorating tip for filling donuts or cupcakes or just squeeze a squiggle where needed. Roll up the end and store the remainder in the refrigerator.
These are made for professional bakers and are much better than those found in stores. Use this professional dessert filling for pastries, donuts, and crepes.
Ingredients: Water, High Fructose Corn Syrup, Sugar, Evaporated Apples (preserved with sulfur dioxide), Food Starch-Modified, Corn Syrup, Citric Acid, Sodium Benzoate and Potassium Sorbate (as preservatives), salt, spice. This product is manufactured on equipment that processes items containing tree nuts.
Apple filling
Great product.
Always had great , tasty products from Prepared Pantry.
Pleased
I made handpies/turnovers with the apple pastry and Dessert filling I purchased. It is delicious and is easy to to fill from the bag it comes in.
Excellent Apple Filling
This is very good, however, I wish the apples were not so small and a bigger for extra taste. Other than that is is an excellent mix for apple filling. I used the filling with the Cobbler Mix.
Love your products
Been ordering for years.Good thing I don't live near your store,I would visit everyday.All the items arrived quickly and packed so well.We enjoy your crepe mix.I used make my grandmother's recipe from scratch, no more.These taste exactly like hers.We brush them with melted butter and cinnamon sugar and roll them up.Yummy.Your shortbread cookies are wonderful! I roll them out in shapes and decorate. The bread mixes are wonderful, pumpernickel is my favorite.Thanks for making life easier yet so delicious!
I honestly purchased for Christmas so I haven't used it yet.