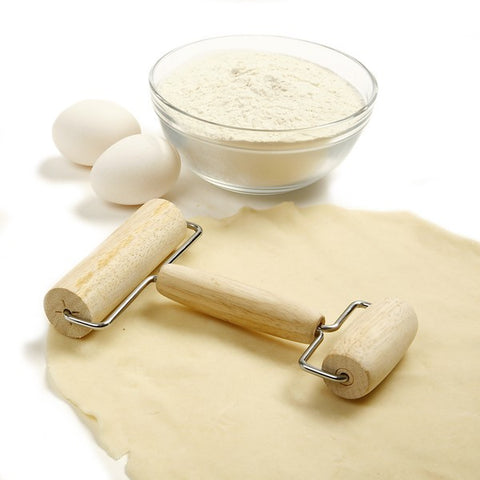 Norpro
Pizza & Pastry Roller ("How to Make a Thin-Crust Pizza")
See, "How to Make Thin Crust Pizzas"
Essential tool for thin-crust pizzas

Great for rolling dough, crushing crumbs, and breaking nuts

Small end for tight work and corners; large end for speed
How did you ever live without a pizza roller?
"WOW! This is the greatest thing since sliced bread! Used it this morning to make a breakfast pizza in a 15x10 pan, and it smoothed it out so quickly and smoothly - love it!" Gloria West

"Handy little tool. Great for crushing nuts, and making bread crumbs, besides rolling dough." Skip Willis 



"Pizza and Pastry Roller Success. As always, Prepared Pantry has made my baking easier and more fun. The pizza and Pastry Roller makes rolling dough a breeze!" Marilyn Williams  
It's almost impossible to make a great thin-crust pizza without a pizza roller!
"Was easy for us to roll out a thin pizza." Ann Anderson 

"it's a great tool. i am so glad that i bought it."  rebecca
To get that crust to bake right, it needs to be of a uniform thickness. Roll it out just right with this little tool. 
And it's not just for pizzas. Every serious baker needs a pizza and pastry roller. Use it for cookies, pies, and pastries.
Add this to your kitchen aresenal.  If you're not happy, we'll give you your money back.
How to Make a Thin Crust Pizza
You can convert any pizza recipe to a thin-crust pizza by making a thin crust instead of a thicker one. But, with a thinner crust, reduce the amount of the toppings by maybe half. Too many toppings will insulate the pizza, and it won't be crisp. A thin crust pizza is more like eating a spread on a cracker. A regular pizza recipe converts well to two thin-crust pizzas.

 Use a Pizza Roller
Each pizza dough mix makes a regular pizza crust. For thin-crust pizzas, divide the dough in half and make two 15-inch pizzas. Use a pizza roller to roll the dough thin.
Step 1: Making the Crust

The enemy of thin-crust pizzas is gluten. Gluten is formed from two proteins found in wheat flour. When hydrated and mechanically worked, they twist together like tiny ropes. Those ropes give bread dough its elasticity.
But in pizza dough, that elasticity creates "spring back". You roll the dough into a 15-inch circle, and it wants to spring back to a 12-inch circle. You need a soft dough that will hold its shape.
"Dough relaxer" is the magic ingredient. It's in the pizza dough mix. It makes the dough soft and easy to roll out to a thin, cracker-like crust.
Without a dough relaxer, you cannot make a thin-crust pizza. Our pizza dough mixes are sized for a generous regular crust pizza. With dough relaxer, you can make two or three 15-inch thin-crust pizzas.
All you add is water. Use the dough hook with your stand-type mixer. Once the dough starts to come together, turn the speed to medium-high and mix for about one minute.
Step 2: Assembling the Pizza
Roll our pizza dough in the pan using a pizza roller. Press the dough tight into the corners of the pan so you don't have a build-up of dough around the perimeter of the pizza.
Brush olive oil over the pizza dough, then load the goodies on the dough. Again, don't overload the dough.
Step 3: Baking the Pizza
You need to bake 'em hot to get 'em crisp. Preheat your oven to 450 degrees.
How long it will bake will be a function of how high you stack your toppings. If the toppings are sparse, the crust should be crispy, and the cheese melted and bubbly in six to eight minutes.
Very satisfying
This pizza dough is very light. You don't feel like you ate a brick. It wasn't overfilling. Highly recommend it. What's better than making your own pizza. All the cheese and topping your loving heart desires. I know your thinking about it, you should try it.
Finally made a round pizza!
I've been making homemade pizza for a while now and thought I'd give this roller a try. I used it with the Prepared Pantry pizza dough that I made in my bread maker. I was able to roll out the dough evenly without any thin spots, and I got a nice, uniform edge crust. I have to try it with other dough, but I'm very happy with this roller.
Handy little tool!
Great for crushing nuts, making bread crumbs, besides rolling dough.
Pizza and Pastry Roller Success
As always, Prepared Pantry has made my baking easier and more fun. The pizza and Pastry Roller makes rolling dough a breeze!