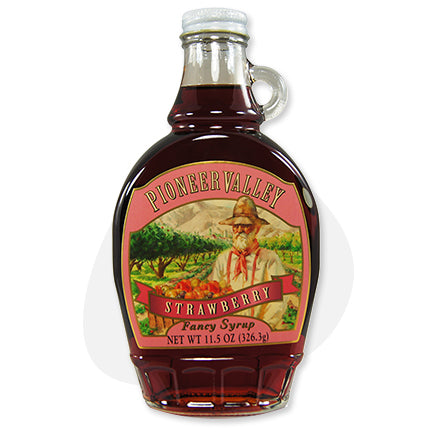 Pioneer Valley
Pioneer Valley Gourmet Strawberry Syrup
This is the best fruit syrup that we have ever tried!
We consider this gourmet syrup a real find and think you will agree that it's better than anything in your local store. You'll find it thick and rich and flavorful and the perfect addition to your morning's pancakes or waffles.
What makes it so good? We think that it's the careful, handcrafted care that a family-owned company puts into its products. But it's the fruit too. This thick syrup is made with simple fruit juice sweetened with cane sugar. There are no preservatives, no artificial flavors, and no thickeners. You'll feel good about this syrup.
Try all of our Pioneer Valley gourmet syrups.
Each attractive glass jar contains 11.5 ounces of premium syrup.
Easy Strawberry Vinaigrette
Make this very quick, three ingredients, strawberry vinaigrette.
1/2 cup olive oil
1/3 cup red wine vinegar
1/3 cup strawberry syrup
Mix the ingredients together. If you would like tarter vinaigrette, add another tablespoon of vinegar. If you like the flavor of tarragon, add a little.
Serve over a strawberry salad made of spinach or salad greens, cucumber slices, sliced strawberries, and walnut pieces. You can also add crumbled bleu cheese or shredded mozzarella to your salad.
You'll find this syrup thick, rich, and flavorful. You'll feel good about this syrup.
Strawberry Syrup
Real strawberry flavor. It's nice to have an occasional change from maple.
Strawberry Syrup
Bought for my hubby and he said it was just okay. He loves IHOP strawberry and I think he was hoping that it would be more like their's. I tasted it and it has a good flavor.