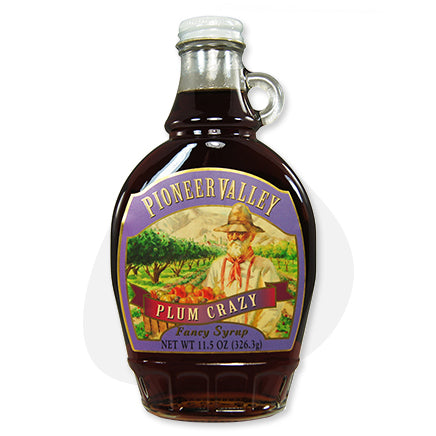 Pioneer Valley
Pioneer Valley Gourmet Plum Crazy Syrup
My mother used to make a plum jam that was fantastic. This plum syrup is just as good.
This syrup even looks great--bright and clear and purple-red. It's sweet and flavorful and tart but not so tart that it overpowers the taste of the fruit. Try this syrup on your pancakes, waffles, or even ice cream.
We consider this gourmet syrup a real find and think you will agree that it's better than anything in your local store. You'll find it thick and rich and flavorful and the perfect addition to your morning's pancakes or waffles.
What makes it so good? We think that it's the careful, handcrafted care that a family-owned company puts into its products. But it's the fruit too. This thick syrup is made with simple fruit juice sweetened with cane sugar. There are no preservatives, no artificial flavors, and no thickeners. You'll feel good about this syrup.
Try all of our Pioneer Valley gourmet syrups.
Each attractive glass jar contains 11.5 ounces of premium syrup.
Sweet, flavorful, and tart but not so tart that it overpowers the fruit.
Gourmet Syrups
I purchased several bottles of the gourmet syrup. WE both prefer the fruit flavors over regular maple syrup.
Review
My wife made pancakes for dinner last night - the first time we've had pancakes for dinner in at least 10 years. I don't like pancakes much for breakfast and much less pancakes for dinner. But she gave me this Plum Crazy syrup to put on them. WOW! Rarely am I so impressed. And I can't remember being this surpised by something so good and new (to me) since my first trip to France in the mid 80's. If you have not yet tried this Plum syrup, I would whole-heartedly recommend it.