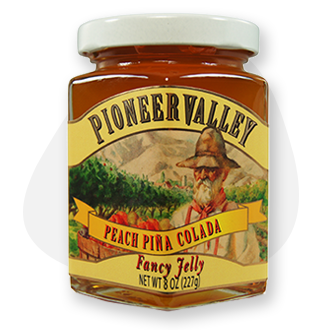 Pioneer Valley
Pioneer Valley Gourmet Peach Pina Colada Jelly
This is one fine jelly!
We asked the producer about this jelly. "Frankly, we haven't found the right name for this. But when people try it, they buy it."
People don't know it. There are too many competing flavors that they do know. But this one is fabulous. We've served this in the store, so I know people like it.
Try it. If you don't love it, we'll give you your money back.
The peach has a very mild flavor; the pineapple shows through. It's not like a chunky pineapple; it's very smooth with just a bit of a tangy flavor. Pina colada is the best way to describe it.
I love it on toast--nothing to compete within, except butter. Try it on hot buttermilk biscuits. You'll find it fabulous. We guarantee it.
Again, you'll find this a first quality product. No corn syrup. Just fruit and a little sugar in a handsome hex glass jar with a beautiful foil label suitable for gift giving. See why we're so impressed with Pioneer Valley.
Unique Jelly
This jelly is unique as it's a combination of flavours one won't easily find on the store shelf. I just wished it came in a larger jar.
Review
Far and away the most delicious Jams and fancy jellies U've tasted. Especially the Peach