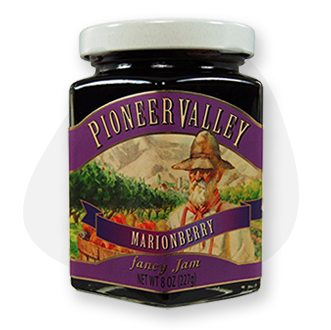 Pioneer Valley
Pioneer Valley Gourmet Marionberry Jam
This is made with fresh, premium marionberries from Oregon with no fillers or other fruit.
This marionberry jam is a little sweeter and brighter than its cousin, black raspberry jam.
You'll love this carefully crafted, gourmet marionberry jam made with sweet, ripe Oregon marionberries made to a precisely spreadable consistency. It's made in small batches with sweetened, fresh fruit with no fillers, corn syrup, or preservatives which allows an intense fruit flavor. Marionberries are closely related to black raspberries but tend to be sweeter and very flavorful.
We consider this gourmet jam a real find and think you will agree that it's better than anything in your local store. You'll find it thick and rich and flavorful and the perfect addition to your bread and muffins.
What makes it so good? We think that it's the careful, handcrafted care that a family-owned company puts into its products. But it's the fruit too. This jam is made with simple fruit, sweetened with cane sugar. You'll feel good about this jam.
Try all of these Pioneer Valley gourmet jams. Each attractive hex glass jar contains eight ounces of premium jam.
This is the best marionberry jam we have ever tasted.
Pioneer Valley Gourmet Marionberry Jam
Review
Everything is always great tasting.
Review
Love everything! Still need a few more items I will order at a later date. Thank you.