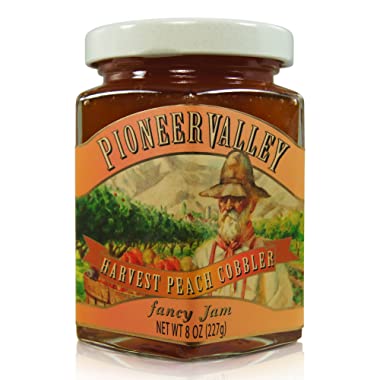 Pioneer Valley
Pioneer Valley Gourmet Harvest Peach Cobbler Jam
Why does this PEACH jam outsell strawberry, raspberry, and 18 other jams? It's just that good!
This is a heritage peach jam like your grandmother might have made. It has a subtle blend of spices and a touch of vanilla. It tastes like fresh, peach jam but there is more, it's like a great homemade peach cobbler. No wonder it is so popular.
You'll love this carefully crafted gourmet peach jam, a perfect mixture of sweet, ripe peaches, brown sugar, and spices made to a precisely spreadable consistency. It has no fillers, corn syrup, or preservatives to mask the intense fruit flavor. This jam is simple fruit sweetened with cane sugar so you will feel good when you serve it to your family.
Each attractive hex glass jar contains eight ounces of gourmet peach jam. You'll be proud to serve this jam.
We guarantee this jam. If you don't love it, we'll give you your money back. Buy with confidence.
I love the pioneer jams and jellies!! Peach is awesome and I love it in toast and cookies!!
Harvest Peach Cobbler Jam
Delicious!
I started buying Pioneer Valley items at craft fairs, and when Covid hit, I used up all of my supply. So grateful to have found it on the Prepared Pantry website. They ship quickly and safely. Every jar was bubble wrapped to avoid any breakage. The Harvest Peach Cobbler jam is a favorite, and I have to buy multiple jars so we don't run out. You'll love it!
Pioneer Valley Gourmet Harvest Peach Cobbler Jam
The peach jam was Delicious