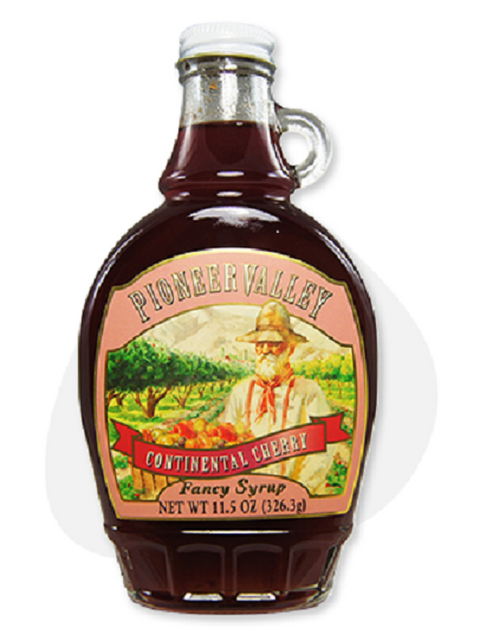 Pioneer Valley
Pioneer Valley Gourmet Cherry Syrup
What can you do with cherry syrup?

Of course, you can put it on pancakes and waffles. But that's just the start. Here are more:
Put it on your ice cream. It works as a dessert sauce.
Use it in your beverages.
Make cherry whipped cream
Make a cherry cream cheese spread. Better yet, add chopped pecans for a cherry nut spread.
Use it in your smoothies.
Glaze a turkey, ham, or chicken.
Make a shake.
Make cherry candy.
You will love this syrup. It's not too tart and it's not too sweet. It's made with no fillers or preservatives that would mask the flavors for an intense fruit experience.
We consider this gourmet syrup a real find and think you will agree that it's better than anything in your local store. You'll find it thick, rich, flavorful, and the perfect addition to your morning's pancakes or waffles.
What makes it so good?
We think that it's the careful, handcrafted care that a family-owned company puts into its products. But it's the fruit too. This thick syrup is made with simple fruit juice sweetened with cane sugar. There are no preservatives, no artificial flavors, and no thickeners. You'll feel good about this syrup.