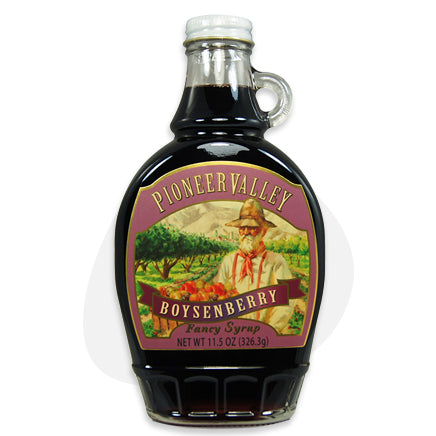 Pioneer Valley
Pioneer Valley Gourmet Boysenberry Syrup
We consider this gourmet syrup a real find and think you will agree. You'll find it thick, rich, and flavorful, and the perfect addition to your morning's pancakes or waffles.
What makes it so good? We think that it's the careful, handcrafted care that a family-owned company puts into its products. But it's the fruit too. This thick syrup is made with simple fruit juice sweetened with cane sugar. There are no preservatives, no artificial flavors, no thickeners, and no other sweeteners. You'll feel good about this syrup.
Compare this gourmet boysenberry syrup at $6 to $8. We cut out the middleman and pass the savings on to you.
Try all of our Pioneer Valley gourmet syrups.
Each attractive glass jar contains 11.5 ounces of premium syrup.
This boysenberry syrup is made with real fruit and no corn syrup. (Corn syrup is a sweetener that masks the true fruit flavor.) Its flavor is brighter and clearer. We consider this gourmet syrup a real find.
This syrup is so yummy and tastes like you just picked the berries!
This is my favorite berry flavored syrup and tastes so fresh!
Review
Best fruit syrups we have found. Prompt service and packaged well.
Review
AWESOME!!!!! You will not be let down for sure
Review
This product has the competition beat hands down! It is nothing but the fruit we expected without the dilution of sugars of various types. It is the flavor my wife remembers from decades long past.