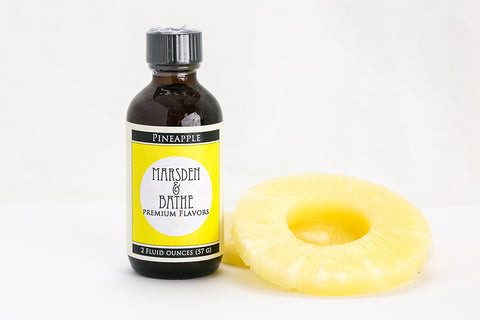 The Prepared Pantry
Marsden & Bathe Pineapple Flavor 2 oz
Add this tropical pineapple flavor to your pantry.
Add it to your baked goods for a break from the ordinary.
The distinctive, tropical pineapple extract can be used in many recipes.
Commercial strength natural and artificial flavor--more concentrated therefore more economical that "store" flavors.
Produced by a US company with over 100 years experience in flavors.
Comes in a dark glass bottle to protect the delicate flavors from light.
Marsden and Bathe flavors are generally used in bakeries and fine restaurants by pastry chefs and are not generally available to consumers. See if they are not better than grocery store flavors.
Flavor did not come through the baking process
Pineapple had a great aroma, and I was excited to use this in my biscotti recipe. Unfortunately, I could not detect any pineapple flavor in the finished product. Are used one and a quarter teaspoons of the flavor for 2 cup flour batch of dough. ( which also had pineapple bits)
If more flavoring was needed, would be best to put that on the label