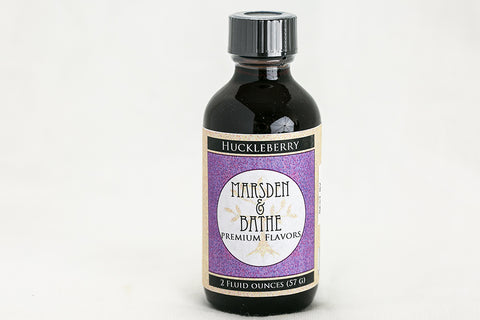 The Prepared Pantry
Marsden & Bathe Huckleberry Flavor 2 oz
Add this bright, huckleberry flavor to your pantry.
Huckleberries grow in the Rocky Mountains. They are small, tart berries, similar to blueberries. Use this flavor in cakes to shakes, anywhere you would like a wild berry flavor.
Huckleberry is a most prized berry that grows wild in the woods in Idaho and Montana. The berries are small, slow to pick, and commercial quantities are very expensive. If you are lucky enough to have a few berries, give them a flavor boost with this huckleberry flavor. This flavor also goes very well with blueberries.
Commercial strength natural and artificial flavor--more concentrated and therefore more economical that "store" flavors.
Produced by a US company with over 100 years of experience in flavors.
Comes in a dark glass bottle to protect the delicate flavors from light.
Marsden and Bathe flavors are generally used in bakeries and fine restaurants by pastry chefs and are not generally available to consumers. See if they are not better than grocery store flavors.
Ingredients: Natural and artificial huckleberry flavor, water, propylene glycol, alcohol.
Review
I use the huckleberry for fudge. It's great and now I have another one to try. Thank you
Review
Everything has been amazing! You have a new customer for life!