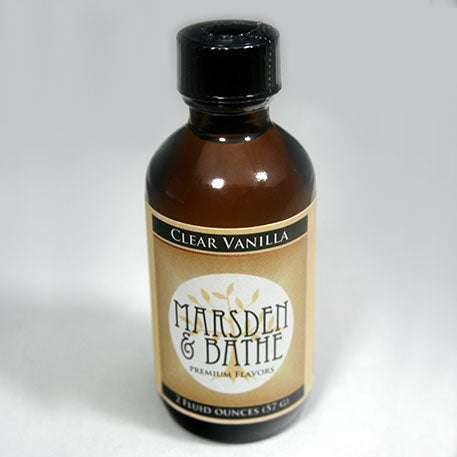 The Prepared Pantry
Marsden & Bathe Clear Vanilla 2 oz
Would you like to bake better for pennies a serving?
Most recipes call for a teaspoon of vanilla. There are 48 teaspoons in a cup. Vanilla prices fluctuate but chances are, it's less than 50 cents a recipe. And a recipe may serve 20 to 40. That's pennies per serving.
The most popular vanilla among professional bakers--the standard of premium professional bakers.
Rich flavor profile that is delicate, sweet, creamy, and pleasant.
"Single fold" vanilla. "Folds" measures the intensity of the vanilla.
A single fold means that 13.5 ounces of vanilla beans were used in the extraction of one gallon of vanilla.
Extracted from beans by a company with over 100 years experience working with vanilla beans and extract.
Comes in a dark glass bottle to protect the delicate flavors from light.
Marsden and Bathe flavors are generally used in bakeries and fine restaurants by pastry chefs and are not generally available to consumers.See if they are not better than grocery store flavors. They're 100% guaranteed! If you are not delighted, we'll give you your money back.
Review
excellent products. I have been ordering from Dennis Weaver for almost years and you can count excellent products, great service and excellent customer service. For all of my baking needs I will continue to count on Dennis Weaver and the prepared pantry!! I know I will get the best of the best!!!