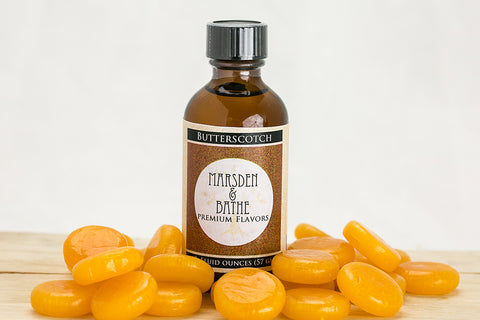 The Prepared Pantry
Marsden & Bathe Butterscotch Flavor 2 oz
Try this warm, sweet, butterscotch flavor for a deep flavoring.
This butterscotch flavor is wonderful in everything from frosting to cookies to shakes. If your recipe calls for vanilla or butter rum, consider butterscotch.
Commercial strength natural and artificial flavor--more concentrated therefore more economical that "store" flavors.
Produced by a US company with over 100 years experience in flavors.
Comes in a dark glass bottle to protect the delicate flavors from light.
Marsden and Bathe flavors are generally used in bakeries and fine restaurants by pastry chefs and are not generally available to consumers. See if they are not better than grocery store flavors.
Ingredients: Artificial flavor, water, propylene glycol. This product is packaged with equipment that is used in the production of baking mixes and may contain traces of soy, dairy, wheat, tree nuts, peanuts, or eggs.
Favorite flavor to add to my chocolate chip cookies
This flavor is outstanding! I wish it came in the 4 ounce size. I use it every time I make chocolate chip cookies. It is better in my opinion than the caramel or brown sugar flavorings.