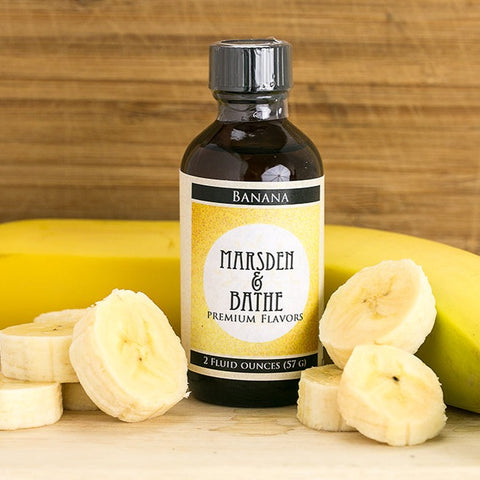 The Prepared Pantry
Marsden & Bathe Banana Flavor 2 oz
You're asking a lot of your bananas!
If you bake banana bread, pick up some banana flavor.
You're asking a lot of your bananas! You want three or four bananas to flavor a batch muffins or banana bread. You're expecting too much. Oh, your banana bread will still be good but it will be better with banana flavor.
Several years ago, we baked banana bread for a week, recipe after recipe. We loaded those recipes with ripe bananas. Those bananas couldn't do it, couldn't quite deliver the flavor we wanted. Then we started adding banana flavor. In every case, it was better.
The key to banana bread and banana muffins is a teaspoon--of banana flavor.
Commercial strength natural and artificial flavor--more concentrated and therefore more economical than "store" flavors.
Produced by a US company with over 100 years of experience in flavors.
Comes in a dark glass bottle to protect the delicate flavors from light.
Love this flavor!
This is a great addition to my banana bread, cake and frosting. Id be intrigued on how it would work in homemade ice cream!
Review
I have never received anything from you that was not greatly enjoyed.
Great For Smoothies
Just adds the perfect touch that gives our banana- strawberry smoothies a special rich taste. Going to try a little strawberry flavoring next!
Review
There's not one product that I've purchased from The Prepared Pantry that I wouldn't give 10 stars! Everything is so easy to use, so convenient and makes me the "Toast of the Town " when it comes to fresh gift giving! Thank all of you for all your hard work and diligence! You're ALL very much appreciated!Sharon & Ed Roscher
Review
Your products are the best!