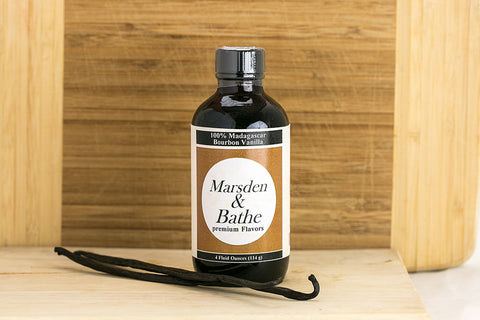 The Prepared Pantry
Madagascar Bourbon Vanilla Extract by Marsden & Bathe 4 oz. Limit 1
Bake like a pro! Use the vanilla they use!
The most popular vanilla among professional bakers--the standard of premium professional bakers.
A rich flavor profile that is delicate, sweet, creamy, and pleasant.
"Single fold" vanilla. "Folds" measures the intensity of the vanilla.
A single fold means that 13.5 ounces of vanilla beans were used to extract one gallon of vanilla.
Extracted from beans by a company with over 100 years of experience working with vanilla beans and extract.
Comes in a dark glass bottle to protect the delicate flavors from light.
Madagascar Bourbon Vanilla Extract
Review
fast service and great tasting products.highly recommend
Review
Your products are the best!