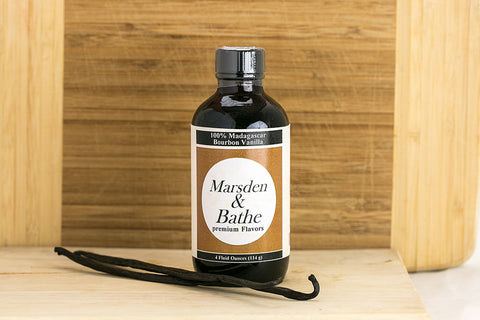 The Prepared Pantry
Madagascar Bourbon Vanilla Extract by Marsden & Bathe 4 oz
Bake like a pro! Use the vanilla they use!
But will really good vanilla make your baking better?
The professional bakers think so; it's what they use.
The most popular vanilla among professional bakers--the standard of premium professional bakers.
A rich flavor profile that is delicate, sweet, creamy, and pleasant.
"Single fold" vanilla. "Folds" measures the intensity of the vanilla.
A single fold means that 13.5 ounces of vanilla beans were used to extract one gallon of vanilla.
Extracted from beans by a company with over 100 years of experience working with vanilla beans and extract.
Comes in a dark glass bottle to protect the delicate flavors from light.
Review
fast service and great tasting products.highly recommend
Review
Your products are the best!
Review
This vanilla trumps any imitation vanilla and is such a unique flavor and different quality than my regular pure vanilla. I love the taste in a steamer and in many of my baked goods. If you haven't tried it you definitely should.