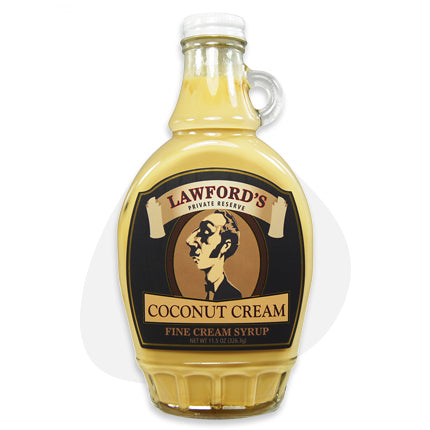 Pioneer Valley
Lawford's Private Reserve Gourmet Coconut Cream Syrup
This is the easy way to turn ordinary pancakes or desserts into extraordinary!
We love this syrup and think you will too. It is our best-selling syrup and sells better than even perennial favorites like boysenberry and apricot.
It is an extraordinary dessert syrup, especially with fruit. We serve this with crepes, over cakes, and with pannekoeken. In our pannekoeken class, we serve pannekoeken with strawberries or bananas drizzled with coconut syrup and topped with whipped cream. Nearly everyone in the class buys the syrup.
We use it as a dressing for a cut fruit salad. It is wonderful. It is terrific as a fruit dip, especially with strawberries.
It is great on pancakes and waffles, our favorite syrup for chocolate pancakes. Even the grandkids love it.
Look at these uses:
Pour it over your pancakes or waffles.
Slather some over your ice cream sundaes.
Make an incredible fruit salad.
Dab a little on your hot morning cereal.
Glaze a muffin or coffee cake.
Poke holes in a quick bread, pour syrup over the loaf, and let the syrup seep through the bread.
Pour it over a sweet roll or pastry.
Make a milkshake or smoothie.
Drizzle it over crepes.
Pour some over strawberries.
Make a fondue--chocolate and gourmet syrup mixed.
Do not pass up this extraordinary cream syrup.
Each attractive glass jar contains 11.5 ounces of thick gourmet syrup.
Ingredients: Corn syrup, sugar, cream, coconut, and other natural flavors, carrageenan, propylene glyrol, alginate, soy lecithin, vanilla, white food coloring (titanium dioxide), salt, modified food starch, xanthan gum, guar gum. Processed in a facility that uses nuts. Keep refrigerated after opening.
Coconut cream
It's delicious, but I was hoping for a stronger coconut flavor…