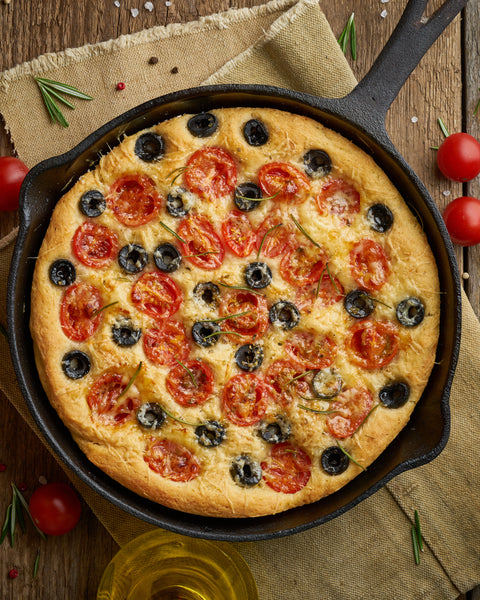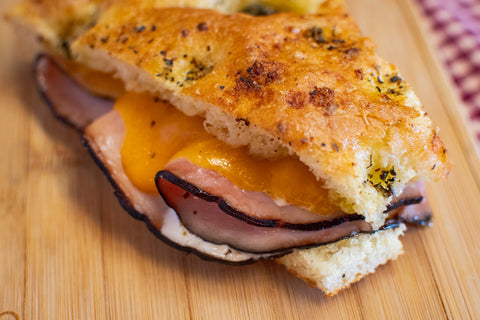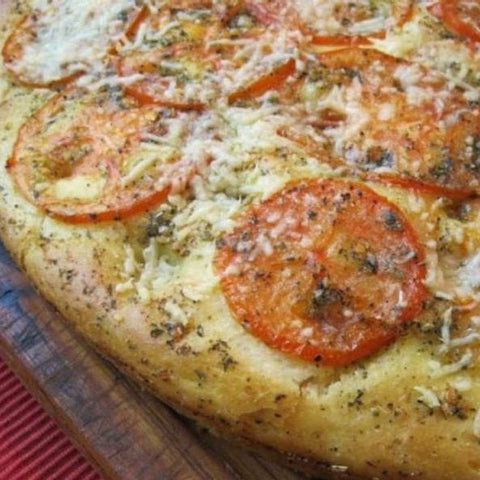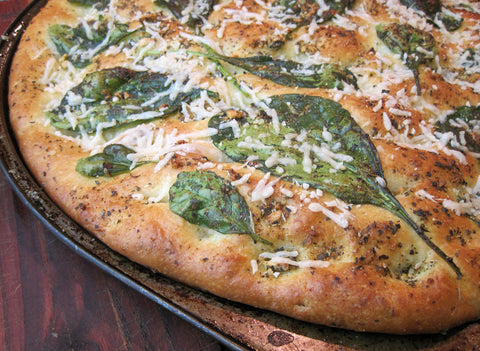 The Prepared Pantry
Italian Herb and Garlic Focaccia Bread Mix
Makes a large 15-inch bread
Includes Italian garlic and herb packet
Can be made on a 11x15-inch baking sheet or 14 or 15-inch pizza pan
Easy and fast, with a single rise and 15-minute baking time
Yeast packet is enclosed.
This is a fabulous bread that's easy to make! Bake it in your oven. It only takes 15 minutes to bake.
"What a mistake I made not trying the Focaccia mixes before! I can't wait until I try the others that I bought."  
You can make this in a 15-inch pizza pan, a baking sheet, or even a large frying pan. I've divided the dough and made smaller breads.  This is one of the breads that I give to neighbors to maintain my hero status in the neighborhood. (You can be a hero too.)
"This was really worth doing. Very popular with everyone here."  
Sheila Stuart
You can't possibly mess it up. It's very easy to make. And it's fun to get creative. You only have to let it rise just once. It even comes with its own Italian seasoning packet.
"Italian Herb and Garlic Focaccia Bread mix! A must buy! Delicious bread!"  
Jacke S
Don't make a mistake. Add this to your cart. It's a crazy good bread. We guarantee it.
Dennis
Suggestions for pizza toppings: To make a meal out of your foccacia, dress it up like a pizza. Spread it with spaghetti or pizza sauce. Add the packaged herb topping for authentic flavors. If you like, press fresh greens such as arugula, spinach, or dandelion around the perimeter to create an attractive border for other toppings. Add mozzarella or another cheese, red and yellow peppers, cooked and quartered new potatoes, sautŽed onions, tomato slices, roasted garlic, kalamata or green olives, anchovies, or cooked but not-too-crisp bacon. Press the toppings into the dough for a chewier crust but let the bread rest for ten minutes after adding these ingredients and prior to baking.
For bread sticks: Turn the dough out onto a greased countertop. Roll the dough until 3/8-inch thick. With a sharp knife, slice the dough into 3/4 inch wide strips for crisp breadsticks and 1 1/2 inch wide strips for chewier breadsticks. Place on a prepared pan, cover, and let rise for about 40 minutes. Brush with the herb and oil mixture. Bake at 400¡F for 13 to 15 minutes. Remove to wire racks to cool. Serve as appetizers or as an easy after school snack with olive oil, spaghetti, or marinara sauce for dipping.
Wonderful Bread
I've used this for quite awhile, for everything from stromboli to bread sticks. easy to mix & has a great taste and texture.
First order
Very easy to order. Shipped very quickly. Already made things. Very happy
Favorite bread. Always a hit.
Italian Herb and Garlic Focaccia Bread Mix any the other Focaccia breads are our families favorite. I make the dough in the bread maker . Makes the whole house smell wonderful( like Macaroni Grill) Never had any bread mixes the we didn't enjoy. Super fast shipping. Thanks Prepared Pantry!!
Italian Herb and Garlic Focaccia Bread Mix