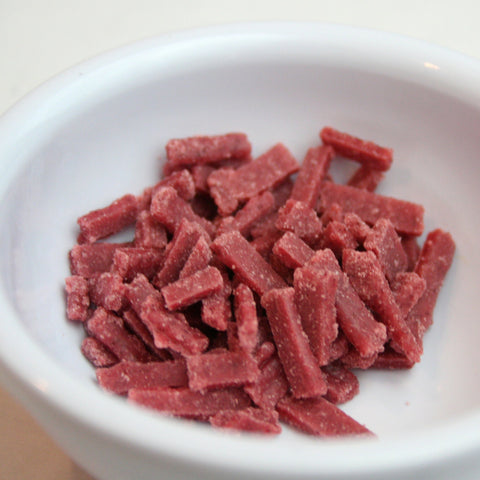 The Prepared Pantry
Gourmet Raspberry Tidbits 11 oz
Look what you can make with raspberry baking tidbits.
Product may melt due to weather conditions during shipping. The Prepared Pantry is not liable for melted tidbits.
Expand your horizons! There are a thousand things you can make with these raspberry tidbits.
Add raspberry tidbits to your chocolate chip cookie recipe.
Both raspberry tidbits and chocolate chips together makes fantastic cookies.
Raspberry and white chocolate cookies are our all time best seller.
Raspberry Macadamia Nut Cookies have an enthusiastic following ever since the recipe showed up on All Recipes.
Editor's note: We use these in many products and recipes and love them. For a more intense flavor, we often add more flavor to supplement the bits.
Ingredients: Sugar, vegetable oil (palm, palm kernel), wheat flour, malic acid, tricalcium phosphate, sodium citrate, artificial flavors, soy lecithin, red cabbage juice, red 40 lake and blue 2 lake. This product contains soy and wheat and is packed with equipment that processes baking mixes and may contain traces of tree nuts, peanuts, dairy, or eggs.
Really good
I love the raspberry tidbits. We use them in cookies, pancakes, etc. They are pretty waxy though.
Add these to all your favorite treat recipes!
These raspberry bits add wonderful flavor to pancakes or your favorite baked treat recipes. Very easy to use....
Excellent!
I used these in my favorite chocolate chip recipe, I only used a cup, and that turned out to be the perfect amount. They are a perfect, natural tasting Raspberry flavor!
Not even close to what I wanted.
I spent $20 for crap. I was looking for chocolate chips with raspberry flavor. You charge way too much and your shipping costs are outrageous! The picture of the cookie had the chocolate chips in it, very misleading!