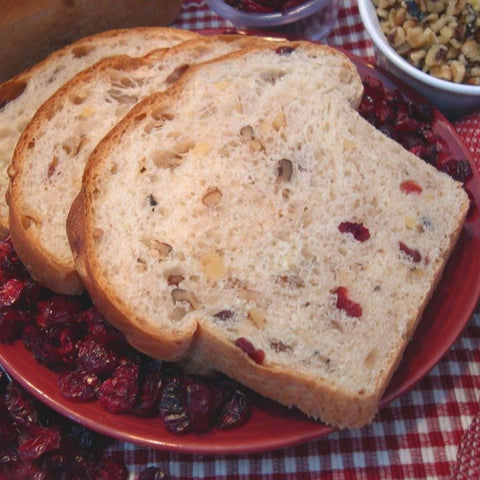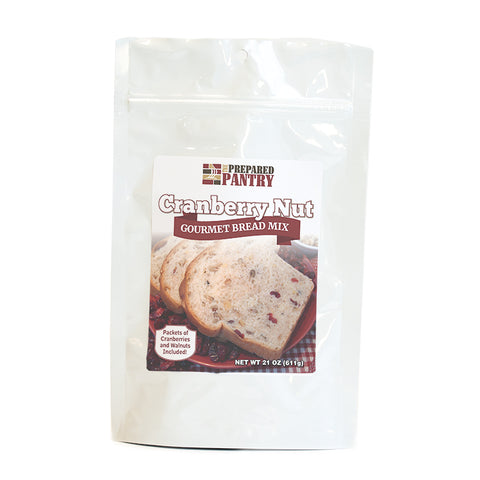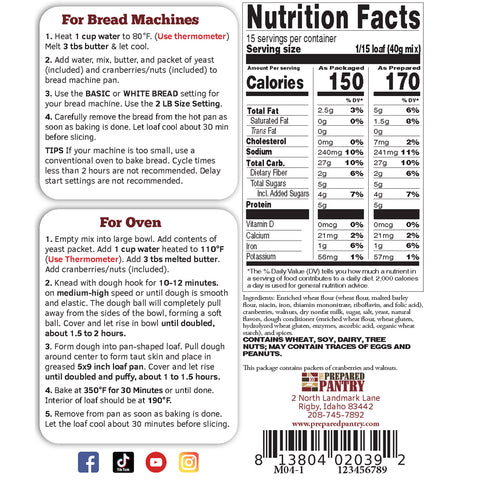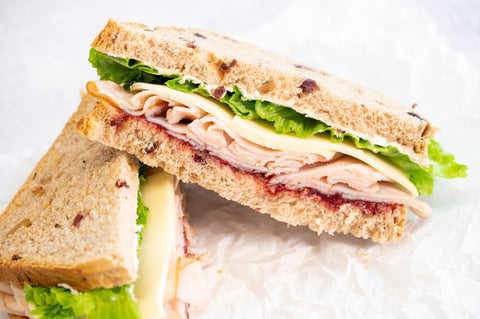 The Prepared Pantry
Cranberry Nut Gourmet Bread Mix
Make this with your bread machine, stand-type mixer, or by hand.
Frequently Asked Questions
Light, airy texture and a fun, festive flavor
Packed with cranberries and walnuts
For best results, use within 6 months
High quality yeast packet included
Makes a 1 1/2 pound loaf in a bread machine or oven
Enjoy the rich taste of walnuts and the tang of cranberries in this wonderful country cranberry nut bread.
We guarantee that you will enjoy this bread. You'll love it for breakfast, as a sandwich, or as a delightful snack. For a delightful breakfast treat, try it toasted and spread with cream cheese. This is a very festive bread!
"Delicious!
We eat it for breakfast with a little butter and cinnamon sugar on top, yum!"  -Rhonda Williams
This bread is packed with our super cold-processed cranberries with more juice and fewer sweeteners.
A packet of nuts is included with this mix. Because nuts have a high oil content, they will not last long. Please use it within six months.
"Cranberry Walnut Bread

The cranberry walnut bread is fabulous! Most breads never add the walnuts but these folks do and it's incredible. Moist, tender and filled with delicious cranberries and walnuts." -Beth Robert
This bread mix can be made in your bread machine or baked in your oven. Each package contains one mix. Each mix makes a 1 1/2 pound-sized loaf. SAF Gourmet Yeast packets are included.
If you make this bread in your bread machine, water temperature is critical. Please use a thermometer to measure water at exactly 80 degrees. A ten-degree difference in water temperature can double the growth rate of the yeast. These bread mixes are satisfaction guaranteed when you use a thermometer.
This mix is a country favorite, a yeast bread loaded with walnuts and cranberries. (Each bread mix has about 2/3 cup cranberries and 1/2 cup nuts.) It also has a touch of cinnamon and a hint of orange. 
instructions need to be updated
The nuts and cranberries did not fall into the mix, so the bread and cranberries and nuts did not mix. Please include in the instructions to make sure that the nuts and cranberries are pushed down while the bread is mixing.
Delicious
Very moist , plenty of ingredients, wonderful flavor.
Cranberry Nut Gourmet Bread Mix
Had hip surgery & not had a chance to fix it yet
Looking forward to some great bread
Cranberry Nut bread
Came out great, everyone commented on how good it was.