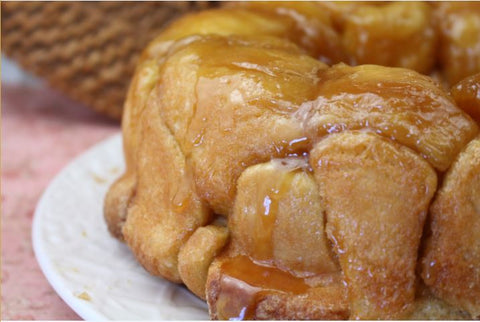 The Prepared Pantry
Caramel Donut Monkey Bread Mix
You'll love it because it's simple to make--simple down-home goodness--made from Dad's favorite raised glazed donut recipe.
Made with a raised, glazed donut recipe for lighter, fluffier monkey bread.
Lots of cinnamon and orange flavor mixture to coat. Extra select imported cinnamon and delightful flavors make this very special.
Each mix includes nearly 1 3/4 cups cinnamon mixture.
We have a super selection of monkey bread mixes, maybe the best anywhere, including both sweet and savory.
We've taken monkey bread to family reunions. It always draws a crowd, we always get asked for the recipe, and it's always the first treat gone. Your family and friends will rave over this monkey bread.
MONKEYING AROUND CAN BE GOOD.
hAVE NOT MADE THE CARAMEL AS YET. MADE THE CINNAMON MONKEY BREAD AND IT WAS OUTSTANDING.
Monkey Bread
I bought this as a gift. The family we gave it to generously offered some to us. It was simply amazing. I love Prepared Pantry. I rarely purchase any cake or frosting mix at the grocery store.
Great treat
Great Xmas brunch item enjoyed by all