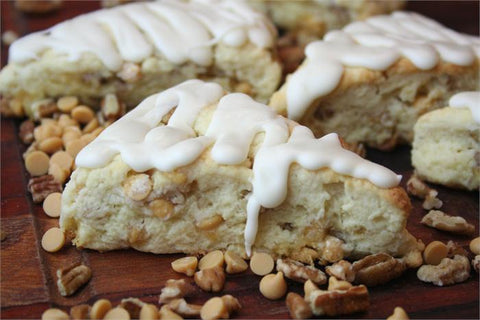 The Prepared Pantry
Frosted Butter Pecan Scone Mix
Learn how to make fabulous butter pecan scones that may taste better than those in a genuine English tea shop and definitely better than most coffee shops!
There's a simple rule to fabulous scones: Start with rock-hard butter. Then cut the butter into the flour mixture with a pastry knife without the butter melting. Little pieces of butter are what make scones flakey. Start with hard butter, mix quickly, and put them in the oven.
What makes these so good? Well, they're loaded with premium pecans and a quarter-pound of very good baking chips. And that butter pecan frosting is to die for. You'll find these scones perfect for breakfast, brunch, or that company lunch.
This is a quick and easy mix to make. The preparation time is less than fifteen minutes. Just follow the easy instructions, and you will have perfect scones.
This is a large 29-ounce scone mix--almost two pounds! It makes 12 to 24 scones depending on size.
Ingredients: Enriched wheat flour (wheat flour, niacin, iron, thiamin mononitrate, riboflavin, and folic acid), powdered sugar (sugar, cornstarch), butterscotch baking chips (sugar, palm kernel oil, powdered whey protein concentrate, soy lecithin, sorbitan tristearate, artificial colors (yellow #5 & 6 lake, Blue 1 lake), artificial butterscotch flavor, and vanilla), pecans, walnuts, sugar, buttermilk powder, meringue powder (egg whites, vanilla, and sugar), dry milk, natural and artificial flavoring, baking powder, baking soda, and salt. This product contains wheat, soy, dairy products, and eggs and may contain traces of tree nuts or peanuts.
Amazing
The hints on the package about the cold butter, really helped with getting amazing scones.
Good For Relationships
My husband thinks I am a treasure after serving him a piece of Butter Pecan Scone. He said, "Dessert doesn't get better than this". He can't wait for breakfast to have another piece. I was surprised I could make it, but the instructions are great.
Unusually Good
While the printed instructions are clumsily written, the product inside is outstanding. The package is packed with a pound of mix, plus two very full envelopes of ingredients: (nuts, butterscotch, etc.) (powdered sugar glaze). I added a few more chopped pecans just for fun and used milk instead of water. Returns for seconds emptied the bowl. This is a repeater.
WOW!
This butterscotch nut blondie mix is so easy to make and is beyond delicious if you love butterscotch. Highly recommend!!
Review
I have used the scone mixes for years and each one is easy to prepare and turns out yummy.