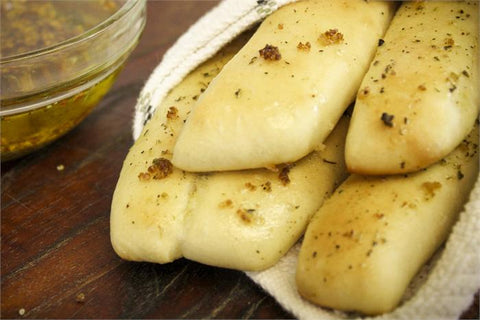 The Prepared Pantry
Italian Breadstick Mix with Roasted Garlic Sea Salt
These are perfect breadsticks, especially with the roasted garlic sea salt crystals.
And when you make them yourself, they're always a little better. They're easy to make. They don't take much prep time but you do need to let them rise. It comes with a packet of coarse sea salt, Roasted Garlic Salt. Sprinkle the salt on the sticks before you put them in the oven.
You can serve these with marinara but I like them best with olive oil, maybe garlic olive oil. Add this to your cart. Make breadsticks as good as the restaurants.
Haven't made yet but will soon
chief cook
I've been using for pizza crust---very good
Family Favorite
It is wonderful to be able to just make a mix when life is super busy - even my teens can just make a batch. They are always gone in 10 minutes or less. Good flavor, easy to make.
Review
This was my third order. Superb breads. Excellent customer service.