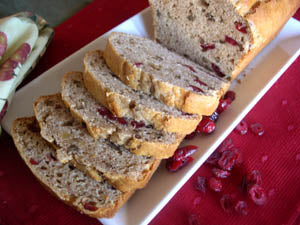 The Prepared Pantry
Cranberry Nut Quick Bread Mix
Our super cold-processed cranberries, lots of nuts, and a touch of citrus make this a wonderful bread!
Cranberries are a wonderful addition to any bread.The marriage of moist, sweet bread with the tang of cranberries is heavenly.To make it even better, we added plenty of rich walnuts, a hint of citrus, and just the right spices. This bread is to die for.
This bread is a cinch to make. Add eggs, butter, and water to the mix and stir with a spatula until combined. Place it in a pan and bake. Your kitchen will soon smell of nuts and spices. Whether you serve this to your family, guests, or give it as a gift, folks will love this moist, maple-flavored loaf.
You'll make a generous 9 x 5-inch loaf from this package. Eggs and butter are not included.
Ingredients: Enriched wheat flour (wheat flour, niacin, iron, thiamin mononitrate, riboflavin, and folic acid), sugar, cranberries (cranberries, sucrose), walnuts, nonfat dry milk solids, natural and artificial flavors, salt, baking powder, spices, and baking soda. This product contains wheat, tree nuts, peanuts, and dairy products and may contain traces of soy eggs.
A new favorite!
This was easy, so delicious, and not too sweet. I divided the batter into 2 mini-loaf pans (disposable aluminum), same temperature, they were perfectly done in a little less time. Easy to share or freeze one. Lots of nuts too.
Another great product
Always great breads to make in my bread machine, now this wonderful bread mix!
Problem
I ordered the mix along with quite a few other mixes. When my order arrived and I opened it there was mix ingredients all over the inside. I went through everything and found the cranberry nut quick had a whole on the bottom seam that nobody saw. I contacted the company and never heard back from anyone so I was unable to make the bread. I have ordered quite a few things from them and haven't found anything I don't like. Wish they would get back to me so I can get a replacement.
the best bread for toasting
By far my favorite bread from Prepared Pantry. Makes super toast and holds up well. I add a few orange bits to make a great bread even better.
Love this company
I have tried lots and lots of different items and I have loved them all.
I love having bread mixes on hand. Love it!