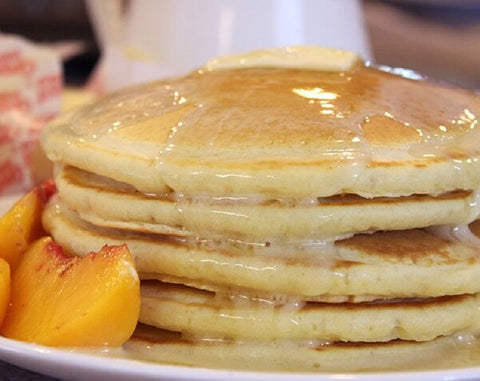 The Prepared Pantry
Buttermilk Pancake Mix (24 oz)
What makes these buttermilk pancakes so light and fluffy?
These are lighter, fluffier pancakes. What makes them so?
They have more buttermilk than most.
They rise sooner and rise more than other pancakes. The batter starts to rise right in the bowl. It looks different.
Flour is cheap but dairy isn't. But really good pancakes have lots of buttermilk. These are great buttermilk pancakes--lighter, taller, and with all that buttermilk, they just taste better.
Give them a try. If you don't think they taste better, we'll give you your money back.
prepared pantry items
i ordered several of the items from prepared pantry. i want to try some of the items i ordered and wanted to see how different things tasted...it came in a very timely manner...and was packed really well. i would order from them again. it was wonderful.
Gave this away since I didn't read or see the ingredients
These may be good but I didn't read the ingredients so gave it away.
Buttermilk pancake mix
Very good pancakes. You can add flavored chips or fruit to the mix for delicious variety.
Great quick breakfast
I like the fact by adding just water, it's good to go. Very fast and tasty.