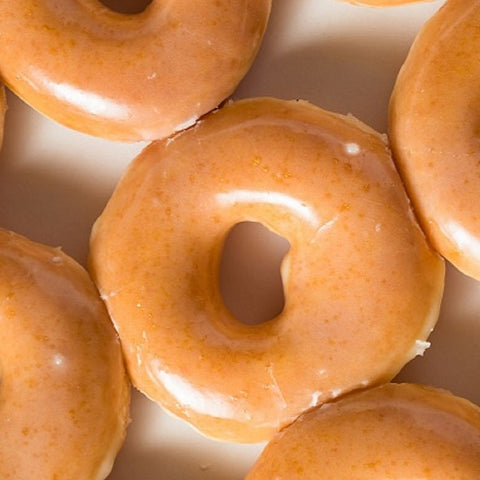 The Prepared Pantry
The Original Raised Donut Mix
Like the classic raised, glazed donuts of yesteryear
Crispy, like the originals
Can use half of the mix at a time
Makes 30 donuts
Yeast packet included.
See how to make cinnamon rolls and other desserts with this mix.
We put together a pictorial of pastries and desserts you can make with this mix, along with basic instructions on how to do it. You'll be amazed at what you can build. Don't miss it.
These are the real deal! We buy the mix in 25-pound bags and repackage it.
When I was a kid, college students would come through the neighborhood selling Original Spud Nuts. If we could get Mom to buy some, we were in heaven. When we got a chance to carry this mix, we jumped all over it. We've now made hundreds of these donuts, and we love them--just like when we were kids.
These are easy to make. Just add water to the mix and beat with the dough hook or knead with your hands. Let the dough rise. Cut out the shapes and let them rise again. Deep fry them for 25 seconds on each side.
This two-pound mix includes SAF Gourmet Yeast packet. Makes 30 donuts. You may use half of the mix at one time by using one teaspoon of the yeast in each half mix. That makes 12-13 donuts. Unused dough can be refrigerated for up to 5 days.
Ingredients: Unbleached, Enriched Wheat flour (niacin, reduced iron, thiamine mononitrate, riboflavin, folic acid), hydrogenated soybean oil, granulated sugar, sweet dairy whey, salt, potato flour, wheat starch, lecithin, tetrasodium pyrophosphate, L-cysteine, sodium stearoyl lactylate, sodium bicarbonate, yeast, spices, artificial & natural flavorings, egg yolk solids, ascorbic acid, yellow #5. This product contains wheat, eggs, and dairy products and may contain traces of peanuts, soy, or tree nuts.
Yeast was not active, donut didn't rise!
great product!
I made these in my air fryer! They were so wonderful
So very good and easy
So very good and easy to make.
Review
We have been extremely pleased with all of the products that we receive from The Prepared Pantry....I plan on becoming a regular customer!