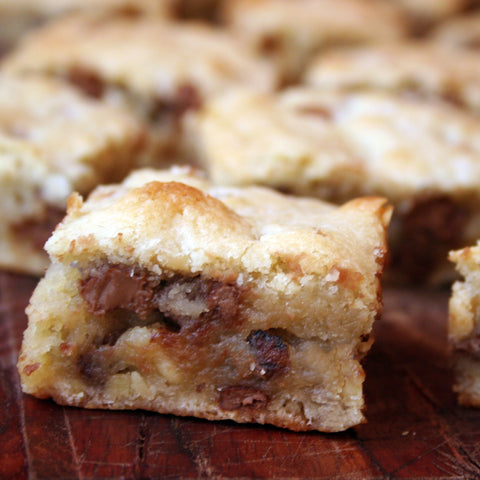 The Prepared Pantry
Old Time Chocolate Chip Blondie Mix
Blondies are like brownies, only different.  The chocolate experience should be just as intense. 
Nearly everyone likes their brownies dense and moist, and chewy. We built these blondies to be just as moist and chewy. But the chocolate pieces are embedded in a caramel cookie. That makes it a little different experience. But a very good experience.
"Super simple to make, and they all have tasted wonderful. Wonderful company to do business with! Thank you!"  

Theresa Sutherland
Try them. If you don't think these are as good as your favorite brownies, we'll give you your money back.

Dense and chewy, like a brownie.
Loaded with milk chocolate pieces.
Quick and easy to make, a great cookie to make on a busy day.
Each mix will fill a 9 x 9-inch pan--enough for 16 good-sized bar cookies.
Yummy.
Amazon and Trader Joe's don't even come close to matching the taste from this Blondie mix. It's definitely the best.
Simply Delicious.
These were great. I baked a second batch and added 1/2 cup of Chopped Pecans and 1/2 cup of coconut flakes and they were even better that way (if you like pecans and coconut).
Could not get blondies to bake
I kept adding minutes to the baking time…maybe 20… then took out the pan and trimmed off all of the edges which were baked and put the underbaked portion back in the oven for 15 minutes… They were more done, but still mushy… We love the taste, but will not buy it again because of this difficulty. We have a regular oven that bakes all of your other products adequately.
Old Time Chocolate Chip Blondie Mix
Both were good. Bread was a bit gummy. Could have been my fault in preparing. Was good toasted