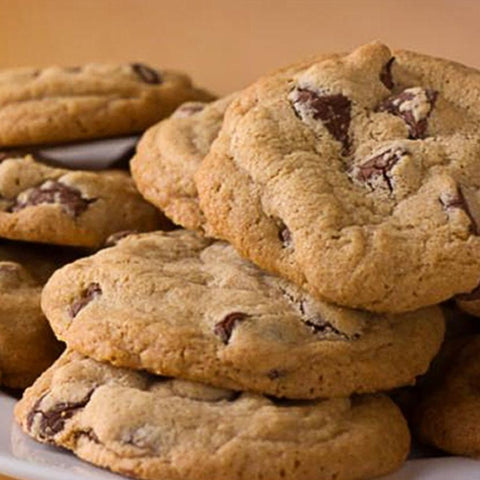 The Prepared Pantry
Dad's Famous Homemade Chocolate Chip Cookie Mix with nuts (1 lb 1 oz)
These are our best 'mall-style' chocolate chip cookies.
This is a great mix. Everyone loves our chocolate chip cookies. They're big and loaded with chocolate and nuts in a buttery, chewy caramel cookie.
Get these if you want really good chocolate chip cookies and don't mind paying a buck or two more. They're worth it.
Makes about 22 regular sized cookies.
Loads of chocolate chips.
Plenty of walnuts chunks--packaged separately.
Made with brown sugar and caramel flavor.
Easy to make. You add only butter and eggs.
Please note: Chocolate chips may melt in extended heat above 91 degrees. Consider the conditions in your area before ordering. We cannot be responsible for melted chips.
Good cookies
The recipe was very easy and the cookies turned out well.
The BEST chocolate chip cookies
Every time I make these I receive compliments. People LOVE these cookies. They are what a chocolate chip cookie should taste like. I no longer bake any other cookie, I get requests for these.
Dads famous homemade chocolate chip cookie mix
Absolutely delicious!! We love them so much, I make them every week!!
Yummy cookies
I made these just the other day and now there gone, so yes they where a hit !
Just received today. Have not made them yet.