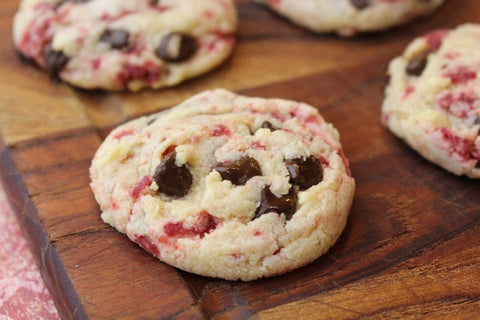 The Prepared Pantry
Raspberry Ripple Cookie Mix
These are the most exciting cookies--loaded with dark chocolate and sweet, tart raspberries.
These are "bucket list" good cookies you simply can't miss!
Raspberry Ripple Cookies are delightful. These are true, gourmet cookies. They are made with the very best chocolate and lots of raspberry baking bits that melt into swirls of raspberry surrounding the dark chocolate pieces.
You'll love them.
Because they are such a gourmet delight--cookies like you've never tried before, give them a try.
If you're not absolutely delighted, we'll give you your money back!
This mix makes two dozen wonderful cookies. (Butter and eggs are not included.)

Yumminess
These cookies hit the spot and my family loved them.
great, too bad other excellent items are no longer sold
very good, I have ordered these several times. Unfortunately, they are one of only a few items that I like that Prepared Pantry still sells
Review
These mixes are absolutely delicious! My family has loved every single one so far and they beg me to make them.
Review
I made the raspberry ripple cookie mix and they were excellent. I haven't made the other things yet but every thing that I have bought and made we have enjoyed.
A raspberry lovers dream cookie!
Easy to make and loaded with raspberry flavor. I can't make enough of them! If you love raspberries you'll love these cookies!