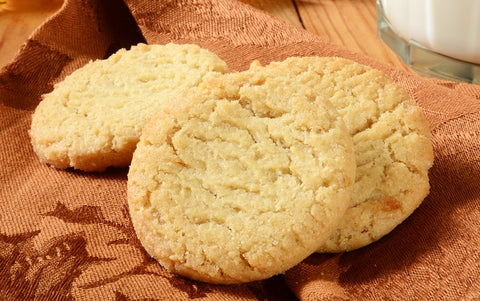 The Prepared Pantry
Pennsylvania Dutch Sugar Cookie Mix.
"Best sugar cookies ever!"
They won't believe you baked these great sugar cookies laced with vanilla, almond, and butter.The crunchy crystal topping contrasts perfectly with the tender butter cookie. Best of all, they are so easy and quick to make.
Whether you take these to a party, serve them to guests, or stick them in a lunch box, they won't believe you baked them. These are so attractive--perfectly round and crystal topped--that they look like you bought them from a bakery. But they are much better tasting--laced withvanilla, almond, and butter. Instead of rolling and cutting like other sugar cookies,simply form round balls, roll them in the crystals,and bake them.
Great Cookies
Excellent, going to buy again
Yummy
Absolutely delicious. They are the good old fashioned cookies that I remember as a child.
Review
One of my favorite finds. Absolutely delicious cookies. Truly cant say enough about this product.
Review
Best Sugar Cookies ever for Christmas or any day! My husband bought me this cookie mix to try and the instructions said you can do round ball cookies but I wanted flat cookies so I put 1 tsp Vanilla extract, 1 cup Butter unsalted, and 2 eggs instead of what was recommended on the package without chilling the dough. Bake at 350 for 6-8 minutes. I made these so we could frost them and they came out perfect! Best tasting cookies ever! Not overpowering on the sugar which was great even with the icing. Soft and yummy. I highly recommend them and will buy again for other parties and Holidays.