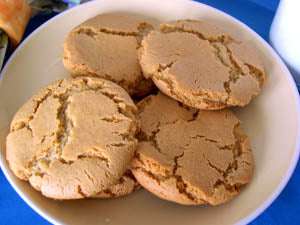 The Prepared Pantry
Old-Fashioned Spice Cookie Mix (Vanilla Gingersnap)
Try these favorite vanilla gingersnaps You'll find them to be great cookies.
Both the kids and adults in your family will fall in love with these cookies.And they smell so good baking--with the aroma of warm spices drifting through your kitchen.You'll see why folks everywhere have fallen in love with these cookies.
You'll be pleased to present thesesoft, attractive cookies to your friends or guests.Serve them to your kids or grandkids with a tall glass of cold milk.Or pack a few ofthesedurable little cookies in a lunch box or backpack.
Each package contains one mix. You can makeabout four dozen cookies depending on the size you choose to bake. Butter and eggs are not included.
Don't miss the chance to try these cookies.
Preparation notes: Cream the butter with the sugar mixture and add the dough mix. Form round balls and bake. Chilling the dough is not required. Complete directions are included.
Old-Fashioned Spice Cookie Mix (Vanilla Gingersnap)
Tastes Just Like Homemade Cookies!
This cookie mix produces a high quality cookie that tastes like it was made from scratch -- truly a homemade cookie taste! It's easy to prepare and stores well -- it doesn't go stale quickly. A little steep price wise, but well worth the money.
Favorite cookie
My husband's favorite cookie. So easy with the mix
very tasty
these were easy to put together and bake. My family loves them! A definite reorder in the future
Cookie mix rating
I enjoy all of your products. I bake a lot for youth group events, the children & parents love the goodies.