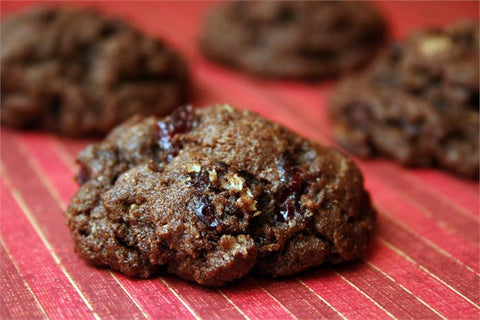 The Prepared Pantry
Cranberry Fudge Healthy Cookie Mix
These cookies are "the bomb"--very, very good and healthy too.  
Easy. Mix. Put scoops on a baking sheet. Bake.
All you add is butter, an egg, and a little love.
Makes 24 nice-sized cookies.
These really are healthy cookies that taste good.

We set out to make a healthy cookie.  We reduced the sugar. added cranberries and honey instead.  And we ditched the white flour; we used 100% whole wheat flour instead. Then we finished them with a bunch of rolled grains--oats, barley, and such. 
Your doctor is going to be so proud of you!
But you've got to be kidding--all that and they still taste good too?
Absolutely--really, really good.
Cranberries and fudge are a classic combination.  The tartness of the cranberries and the rich fudginess are perfect together. And they're very moist, not dry at all.
If these aren't better than anything you find in the store, we'll give you your money back!
These aren't just good cookies; these are "the best cookies ever!"
"The best cookies ever! We LOVE these cookies! They are so delicious and chocolatey and moist. Please don't ever stop making this mix!!"  Felicia Wright 
These cookies will make you famous, and you can give them to your kids guilt-free.
Try these cookies. You'll be amazed.
"These cookies are the bomb! There are good reasons why I just ordered six more packages of them. They're healthy, low in calories, and, best of all, they're delicious! Please make sure you never run out of stock at the same time I do!"  Sherilyn B. 
Be like Sherilyn--don't run out. Always have these on hand.
(Look! There are more cranberries than flour in these cookies!)
Ingredients: Cranberries (cranberries, sucrose), 100% Whole Wheat Flour, Sugar, Honey Powder (Honey, wheat starch, calcium sterate (anti-caking agent), Rolled Grain Cereal (hard white wheat, hard red wheat, oats, hulled barley, triticale and sunflower seeds), and hydroxylated lecithin), cocoa, Baking Powder, Natural Flavor, Baking Soda, Salt. This product contains wheat and nuts and is packaged with equipment that may contain traces of soy, dairy, peanuts, oreggs.
Super yummy chocolate cookies
They last, and are as good day four as day one. Delicious chocolate cookies with a great flavor and texture!
Cookies for breakfast? Yes!
My Go To Cookie
When I want a rich and delicious chocolate cookie that is so easy to make - this is the one!
Excellent
Great balance of cocoa and cranberries -- plus a bonus, the multigrains up the nutrition game if that's important to you. I love cookies in general so this is a great addition to my more traditional cookie assortment. Would buy again.
The best cookies ever!
We LOVE these cookies! They are so delicious and chocolatey and moist. Please don't ever stop making this mix!!