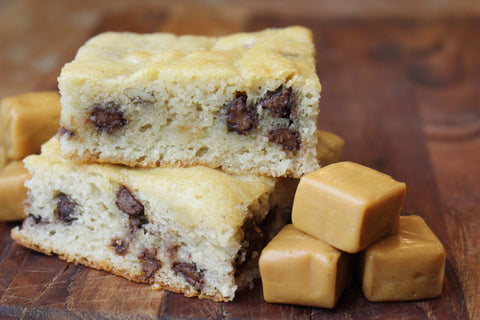 The Prepared Pantry
Chocolate Caramel Nut Blondie Mix
What a great collaboration of flavors: Walnuts and caramel and chocolate!
These are warm and gooey like your favorite brownie but chewy and caramel-like. The chocolate is complementary, not dominating.
We think you and your family will love these.
Dense and chewy like a brownie.
Loaded with nuts and splashed with milk chocolate chips.
Quick and easy to make, a great cookie to make on a busy day.
Each mix will fill a 9 x 9-inch pan--enough for 16 nice-sized, thick blondie bar cookies.
Chocolate Caramel Nut Blondies
These blondies are totally fantastic and a great change of pace from traditional brownies! Only problem is I didn't order enough!
Not Too Sweet
My husband loved these, but I am more into chocolate. The brownies are chewy and moist, but not very sweet.
Chocolate caramel nut blondes
Bloodies are easy to make and delicious to eat. Thank you
Chocolate Caramel Nut Blondie Mix