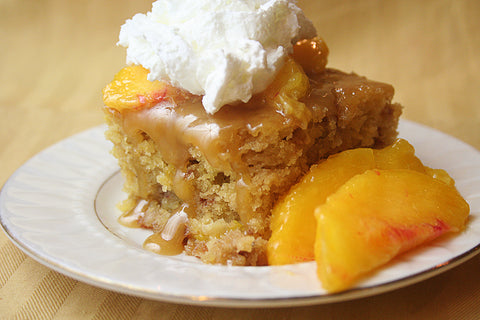 The Prepared Pantry
The Original Sticky Toffee Pudding Mix
Why are the British so crazy in love with sticky toffee pudding?
According to Bon Appetit Magazine, it's the most popular dessert in the world.
Sticky toffee pudding is almost a national pastime in England. And for good reason--it's incredibly good. It's so good that it will make you a hero in your own neighborhood; your family will love it and your friends will be amazed.
Sticky toffee pudding is more of a cake than a pudding. Think of a moist, dense cake covered with a thick, sticky toffee sauce. It's a fruity dessert loaded with little pieces of dates which make it dense, moist, and flavorful. It's finished off with a rich and caramelly sauce, it melds into a total taste experience.
It's really simple to put together. It's like mixing a cake mix from the store. Then, while the cake is baking, mix the sauce: melt the butter in a saucepan, add the sauce mix contents and water, and cook for three or four minutes--until it boils.
This is a great dessert for a busy weeknight when you want a fancy dessert but you're out of time. The prep time on this only about ten minutes.
You can make this as a 9 x13-inch dessert or make 18 to 24 cupcakes.
Delicious alternative to authentic Scottish sticky toffee pudding
This is a great little mix that has a wonderful flavor and texture that has satisfied our craving for the authentic Scottish sticky toffee pudding.
Funky
Texture and taste were ok but couldn't get past the funky smell.
Sticky toffee pudding
Absolutely love this!!!!
It's heavenly for any time. I'll definitely want to order more of it in the future. My perfect reward for any occasion.
sticky toffee pudding mix
I didn't know it had dates in it. Too many tiny chunks of hard dates. It would have been delicious except for that.