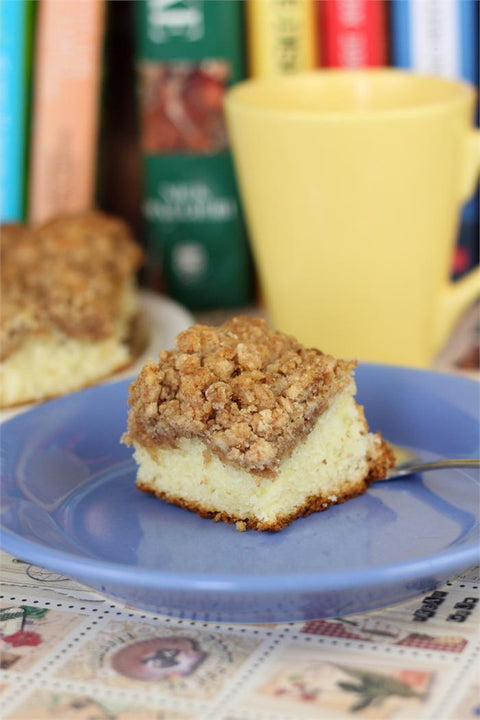 The Prepared Pantry
New York Crumb Cake Mix
Making a delicious, gourmet dessert should not have to take all afternoon, especially with how busy you are. That's why the New York Crumb Cake is the perfect mix for any occasion.
Delicious as a warm, Sunday breakfast cake you don't have to get up hours early to make.
Attractive enough to be served as dessert for a formal dinner with those neighbors who are hard to impress.
Yummy for any palate, even the picky eaters in your household.
This versatile, fluffy vanilla cake topped with a thick layer of brown sugar and high-quality cinnamon is easy to customize for any occasion. Add dessert sauces, flavored whipped creams, or Bavarian cream to set off your dessert as more than just an ordinary crumb cake.
We just know your family and friends will love it. And if you don't get compliments? Or requests for the recipe? We'll give you your money back.
Crumbcake
Nice cake. But I added vanilla extract because the taste was bland. I also added the cinnamon chips I bought from here to the crumb topping. Cooked in a bundt pan and it came out pretty good. I let it sit a couple days because it was flavorless to me. By the 3rd day I could taste how delicious it was.
One of our favorites of all great products. Moist, not too sweet, perfection
We ordered one. Came back for four more. I made mine with peanut oil. It makes everything delicious and moist. It stays fresh for days. With coffee, a few strawberries, blue berries, this is the cat's meow!
Prepared pantry
Love your products. We ordered a bunch and are using them one by one.. have not tried new york crumb but am looking forward to baking it.definitely will be buying more products again. Love them and so easy to prepare. Thank you
A must buy !!!!
This was very easy to make and it tastes amazing . It brought bake memories of a bakery I used to go to growing up . One of my family's favorites
Love it but add my own Streusel Topping.