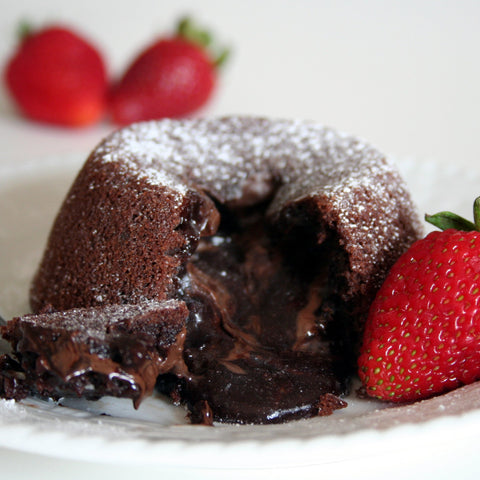 The Prepared Pantry
Molten Chocolate Lava Cake Mix
These are classy, impressive little desserts to serve your family and friends.
Most lava cakes are baked on the outside with raw dough on the inside. These are different--they are filled with the finest chocolate, and everything is baked.
They're so pretty and impressive. Your family will love them.
They're simple to make. Mix the batter. Fill a jumbo muffin tin, ramekins, or mugs partly full, load them with chocolate wafers, and then top them with the rest of the batter.
It's better chocolate than chocolate chips. It's smoother, a finer grind. It's what candy makers use for dipping chocolates.
These are to show off and impress your friends. Make them for your sweetheart. Make your family feel special.
Each mix makes six jumbo muffin-sized desserts. Fine chocolate wafers are included.
Use a jumbo muffin pan, ramekins, or other ovenproof bakeware.
Bakers note: Different bakeware may require different baking times. When removing them from the oven, lightly press down with your finger to see if the tops have set.
You'll need a six-cup jumbo muffin tin for these mixes or similar-sized baking dishes.
Each mix makes six nice-sized cakes the size of jumbo muffins. You add the eggs and the butter. Sugar for dusting or whipped cream for topping is not included.
Each lava cake mix includes premium chocolate chips and premium imported melting chocolate.
Delicious lava cakes
This was very good compared to other mixes that I have tried. Will buy again.
Unimpressed
It was ok but I've tasted better. Kinda of complicated
Luscious and decadent
Sinful is a better word to describe this perfect dessert.