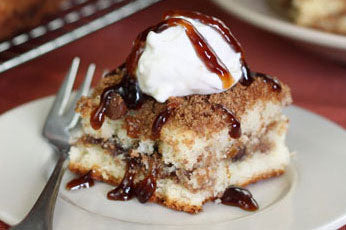 The Prepared Pantry
Mexican Crumb Cake Mix--Vanilla Cake Cinnamon Recipe
It works as a coffee cake, a snacking cake, and even as a formal dessert. Your family and friends will love it. Count how many times they ask for the recipe.
It's made with our extra select cinnamon, Ramstadt Breda Rich Dark Cocoa, and quality chocolate chips. No wonder it's so good.
Because no frosting is required, it's quick to make. It's easy, it looks terrific, and tastes delicious. Your family will want you to make it often. You can make this by hand or with a stand-type mixer. This mix makes a big, thick cake. You'll need a 9 x 9-inch pan that's at least 1.5 inches deep.
I haven't tried that yet but I have made the breads.
I haven't tried that yet but I have tried the wheat and white bread. My family loved them both. So good and so easy. I am getting ready to place another order
Mexican Crumb Cake-Vanilla Cake Cinnamon recipe
Very good products! Fun to make & delicious.
Crumb cake far from crumby
Easy to make and got rave reviews!
Review
Made this for an office gathering several months ago and am still asked when another one is coming.This crumb cake is just Perfect !